Community has got to be the most bizarre comedy I've ever seen on television.  In fact, it's not even really a comedy anymore.  It's next to impossible to pigeonhole it into such a narrow category. 
The 2011 premiere, "Asian Population Studies," started off feeling a little like its old self, with the gang trading barbs around the study table, but somewhere midstream it ricocheted back out into left field territory.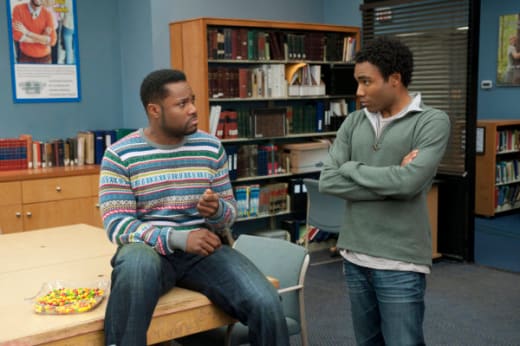 Check out the best Community quotes from Troy and the gang now!
It seems to me that Community really has morphed from a simply a smart sitcom into a true character-based program. Each character, with his/her own flaw and foible, actually makes you care about who they are and what happens to them, much as you would on an hour-long drama.
They just happen to have the insane brain of Dan Harmon to provide them with witty retorts and clever repartee to give the show a comedic edge.
I won't go as far as to say this was one of my favorite episodes, but the heartfelt aspects didn't bother me as much here as they did during Troy's epiphanic
transition into manhood
. I did appreciate that it's taking less time for Britta to let her personal feelings go in favor of those of her comrades, and having Andre blame himself for Shirley's situation and then agreeing to raise the baby with her regardless of paternity was unexpected, but very sweet. 
Infusing that moment with a subtle joke about racial stereotypes and Tiger Woods was kind of on the brilliant side.
The biggest shock of the episode, though, was thinking Jeff, in a moment of clarity,  was going to pursue Annie when in actuality he landed on Rich's doorstep, begging for help to become a good person so that he could use that to his advantage, in effect becoming the perfect version of who he already is.
Did M. Night Shamaylan have a hand in writing this episode?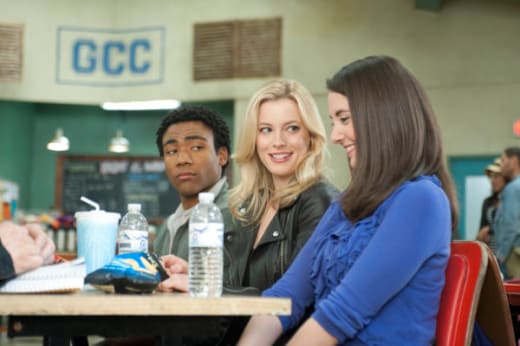 We finally get to the bottom of why Jeff hates Rich so much: because he envies his perfection and the power that gives him. Jeff has never questioned his own awesomeness, but realizes there is more power to be had.  It's kind of frightening actually.  What could Jeff do once he achieves this idea of perfection?  I'm not sure I want to find out.
I was once again disappointed by the incredulous use of Shirley.  Do the writers not know that she can do so much more than they are allowing her to do?  Why can't they let her shine front and center once in a while and be FUNNY?  I want more Shirley, and I want it now.
A few other cool moments:
Abed faking computer malfunction in order to make Chang stop quizzing him about the study group.
Jeff slipping into "Changuage."
Jeff's insult-riddled speech as to why they should let Chang in the group.
Pierce's weird attachment to the kettle corn.
Britta and Annie both storming the men's room looking for Jeff.
Jeffrey Kirkpatrick is a TV Fanatic Staff Writer. Follow him on Twitter.