Cougar Town Review: "Lost Children"
at . Comments
This week's episode, "Lost Children," brought in a couple laughs, but mainly more AWWWWs for bringing the group closer together.
Jules decided that she wanted everyone, even Tom, to play a new game she invented called Sardines in a Can. At first, I wasn't sure where it was going.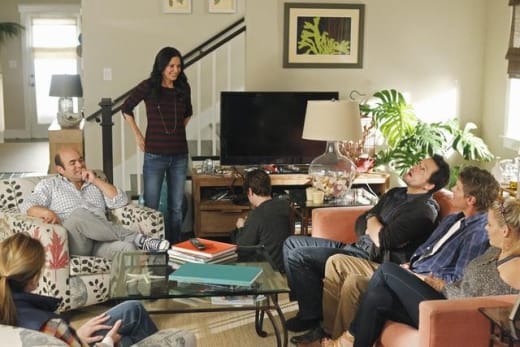 Ellie was the first to hide and, by doing so, she took a stand against Jules, telling her, in front of the rest of the group, that she is the evil dictator and everyone always does what she wants.
I was just as shocked as Laurie. Even though Ellie is notoriously known to be the mean one, she's always had a soft spot for Jules. Even last week, she came to defend her BFF. So Ellie, what gives? Maybe it's that time of the month...
Meanwhile, our favorite group gets separated into duos that normally aren't paired with each other. Grayson and Andie were paired together for the first time. We've never really gotten much out of these two, but I was laughing out loud when Grayson tied Andy to the tree.
Yes, it was mean, but boy, was it funny! As it turned out, Grayson is really not such a bad guy and apologizes to Andy for mistreating him. I'd say that this was the first sweet moment of the night.
Bobby and Laurie made up another tandem. As they searched around looking for Ellie, they come across an interesting friendship - one that's like a strange father/daughter duo. I found this funny because it's true. These two are so much alike, from their naturally blonde attitude, to being almost annoying at times. It baffles me that I never thought their friendship could be on a father/daughter level. That being said, with Laurie's help, Bobby is able to bring his new girlfriend, Sam, around to the group.
Trav got paired with Jules, which isn't something that's out of the ordinary, but funny nonetheless. During their search for Ellie,  Jules tried to get Trav to talk to her about what Ellie said, but the first chance he got, he ditched his mom. Cold move, Trav.
This situation does bring up one good question prompted by Tom: Why is Travis hanging out with them and not enjoying his youthful time in college? Doesn't he have a life outside the cul-de-sac crew?
The episode ends with Jules standing alone, begging the group to come out of hiding. As much as everyone did want to get out, no one budged first. Jules called upon the friendship test, which made Ellie crack. Ellie admitted that she was a bit cranky and that if anyone would be the best leader, it would be Jules. Jules brings them all together.
This episode highlighted the main reasons why I love the show so much. Yes, it can be very funny at times, but more importantly, it leaves you with a warm and tingly feeling inside.
If you agree, take part in our Cougar Town contest now!