Upon hearing off the bat that Manny would be absent from "Caught in the Act," I didn't see any way that I'd enjoy the latest episode of Modern Family.
Then, Phil reacted to his kids walking in on him and his wife having sex by complimenting her "zesty performance;" calmly ate breakfast off the floor while Claire panicked over the incident; and assured her it would be different than her awful experience of doing the same with her parents because they're in better shape.
By that point, I was laughing so hard that I forgot Manny's name.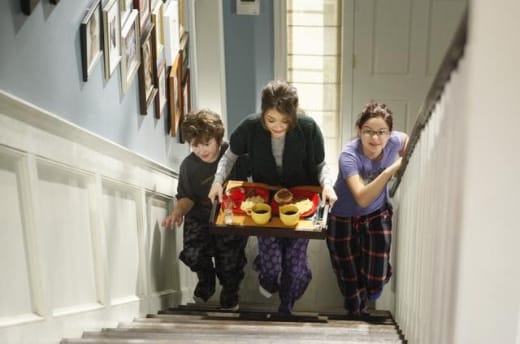 [Photo: ABC]
More than any episode in recent memory, this installment centered on just one storyline.
Yes, Gloria and Jay stopped by the house, but mostly just to have another misunderstanding-based conversation (a trope the show falls back on too often. Last week, it involved Manny, Jay's golf game and a couple's belief that Jay was going senile).
And, yes, Mitchell and Cam were featured in another zany interaction.
But "Caught in the Act" was really all about, as they say, children walking on their parents having sexual intercourse. Everyone involved in the plot nailed his/her part, with Claire freaking out, Luke trying to understand what was happening (Dad was winning!) and Phil just being... Phil.
We've collected the best Modern Family quotes from the episode below. Enjoy!
Phil [on sex]: It's like your shaking hands, but you're not using your hands. At all. | permalink
Haley: They called a family meeting when they switched to one percent milk. | permalink
Claire: We need a game plan, we need to map out exactly what we are going to say, because that is the only way I will be able to hold it together while our babies look at us with judgment and disgust.
Phil: That's how they always look at us. | permalink
Phil: Claire, we're not your parents; we're in much better shape. | permalink
Phil: Forgive me for thinking your zesty performance deserves some praise! | permalink
Matt Richenthal is the Editor in Chief of TV Fanatic. Follow him on Twitter and on Google+.