In our NCIS review earlier, we noted that the procedural never ceases to meet expectations, even on unspectacular nights. The same is true of its high-powered spinoff.
If anything, NCIS: Los Angeles is coming into its own more and more as its second season continues. Every week is like watching a big-budget thriller in under 45 minutes.
"Overwatch" had the fast-paced plot, cutting-edge effects and counter-terrorism elements that have become the show's signature, with some hilarious banter to boot.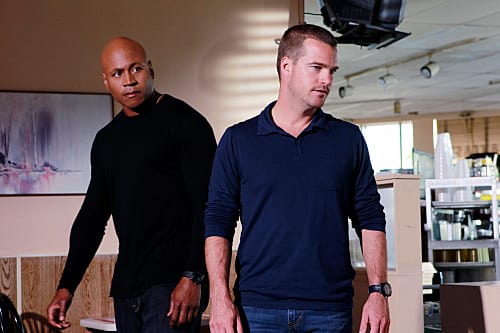 We'll start with the week's case, which was an odd one with more twists and turns than usual. The body of a Muslim man, Yusef Afzal, was stolen at the morgue after he was killed.
That alone was mysterious, but a classified Navy "signature" embedded in a residue on Yusef's skin upped the ante several-fold. Who killed him and why - and what was on him?
Eric traced the residue to a classified Naval program developed to tag and track terrorists. But it was a former Homeland Security employee, Hector Lee, who went rogue with the stuff.
He tagged young Muslims in the area, believing they all were a risk to national security. Yusef was one of those threats. Talk about big brother watching you ... 2011 style.
Imagine their shock when Eric unlocked the encryption, allowing them to track the movements of the "tagged' individuals, and saw that - despite being dead - Yusef was on the move.
Sam and Callen found his decapitated head near a secured door where nuclear pharmaceuticals are kept. Terrorists needed to beat an iris scan to steal dirty bomb materials.
Yusef happened to be a technician at the hospital who the killers targeted because he had access to the area they needed. They killed him at home, but then their plan went awry.
After a neighbor heard the commotion and came over, the terrorists fled, then returned for the corpse later at the hospital. This was a complicated, but perfectly logical explanation.
Soon enough it's off to the races, NCIS: LA style.
Most episodes typically conclude in this manner - high-speed chases and intense fights against the backdrop of real L.A.-area neighborhoods - but that doesn't make it any less fun.
At one point, either in a two-part episode or season-ending cliffhanger, you wonder if the team will fail to stop one of these plots in time and an IED will actually go off. Just a theory.
With a compelling plot, some classic Deeks-Kensi exchanges and the always enjoyable Hetty keeping people on their toes with her mind games, it was a solid return for NCIS: LA.
Some closing thoughts and observations ...
Eric needs to put the clip of Deeks' spill into the canal on YouTube.
Deeks definitely has a Justin Bieber thing going on with the hair.
Looks like more Hetty/climbing wall shenanigans next week?
These people have the sweetest office in the history of work.
The coroner's brief mention of Nate's exit was intriguing.
Nerds rule. Nell and Eric are beyond cute together.
Effish = An efficient way of saying efficient. Noted.
What did you think of last night's NCIS: Los Angeles? Discuss!
Steve Marsi is the Managing Editor of TV Fanatic. Follow him on Google+ or email him here.