One Tree Hill Review: Hungover... and Hilarious?

Dan Forcella at .
The video cameras were finally back in Tree Hill, NC after the long winter hiatus, and it may have been enjoyable for the girls of Brooke's bachelor party, but not for viewers.
On "The Drinks We Drank Last Night," the show paid homage to The Hangover, but it was simply a sub-par knockoff of that classic comedy.
One problem for me, which will come with plenty of boos and hisses from readers? I was not that big a fan of The Hangover.  Therefore, watching Brooke, Quinn and the gang stroll around town trying to remember everything that happened during their drunken escapades from the night before didn't do anything for me. 
Think about it: Watching Frank the Tank guzzle beers is hilarious in Old School because Will Ferrell is hysterical.  If the actors aren't funny, the scenes aren't going to be funny. So watching Alex, Millie, etc. remembering their evening just made me feel miserable for them.
Oh, look! There's a dog on a skateboard. Oh, look! Here's a picture of you drinking beer out of a boot.  This is something that doesn't translate to the screen very well.  When you were the one engaging in the activities, yes, I'm sure it's as funny as it gets, but watching others relive this time just doesn't make for good TV. The fact that there was so little screen time for the guys didn't help, either. Nathan and Julian need to be a main focus, or I'm going to lose interest quickly.
About halfway through the episode, I thought we were getting somewhere.  When the girls found out that they TP'd August Kellerman's house and stole his dog, I thought this story could tie things together well. 
Maybe have Nathan come into the fold and turn the second half of the episode into another plot dealing with Nate and Professor Kellerman?  That never materialized, other than a quick scene towards the end where Nathan proved to the teacher that he read his book.  It was nice to see Nate proving his point that he wasn't some dumb jock, but I wish it had taken more than one episode for him to get there.  How about a bit of a journey?
But what the episode was actually doing was slowly showing the quiet growth of Brooke's relationship with her soon-to-be mother-in-law.  After fighting week after week, we saw a glimpse of the positive relationship that could be there when Sylvia and Brooke had a nice moment talking about concerts and best friends (while Haley tried to find Brooke's ring at the arena).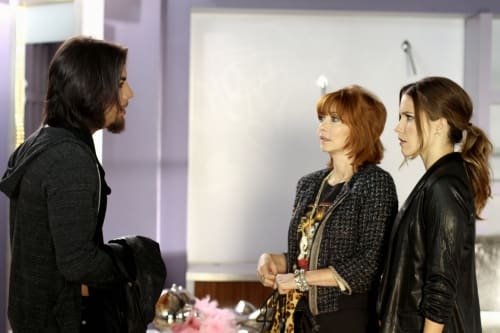 The ladies' relationship then hung in the balance as they did a quick flashback to the two of them screaming at each other the night before.  Brooke told Sylvia that she smothers Julian, and then Sylvia returned with the fact that Brooke is selfish and can never give Julian a family. 
The harsh words between them made it seem as if they were never going to work things out.  And that is what we like to call a nice build-up to a great payoff, because when Brooke finds out that Sylvia paid for and worked day and night on all of the beautiful wedding arrangements, it was a nice scene.  This is what One Tree Hill has always done well: emotional moments.
It is sad that Peyton and Lucas won't be in attendance at the wedding because baby Sawyer is sick, but it should be quite the extravaganza, as all Tree Hill weddings are.  Are you excited for the big day?
Other Thoughts
I smiled when I heard the song "Low" played during one of the flashbacks tonight because I immediately think of Tom Cruise dancing in Tropic Thunder.
The only part of the episode I really found funny was when Dave Navarro made it seem like he had sex with Alex and Brooke when he was really talking about a water balloon fight.  Both the timing by Navarro and the flashback made me chuckle.
The fact that Julian was the one Brooke had been kissing during her wild night was obvious, but I was expecting her to have actually lost the ring.  She's getting off to easy.
We've updated our One Tree Hill music section with the latest singles from the episode.
Dan Forcella is a TV Fanatic Staff Writer. Follow him on Twitter.