Pretty Little Liars Review: A Takes Action

Teresa Lopez at .
While this week's episode of Pretty Little Liars wasn't as exciting as the 2011 premiere, A definitely made his/her presence known, confirming a commitment to make these girls miserable.
The messages from A on "Salt Meets Wound" really showed how involved the mysterious figured is in all of the girl's lives, especially when it comes to those closest to them. Even more interesting this week were the flashbacks that seemed to implicate prime suspect Noel and the inexplicable Ian. However, there definitely wasn't a lot salt being rubbed into anyone's wounds.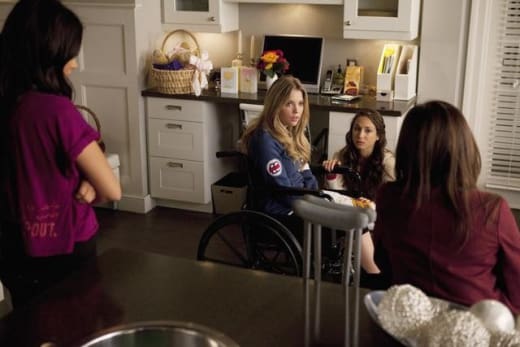 Eerily, Hannah's first message from A involved her mother's actions, not her own. Immediately after finding the hidden money, Hannah received a message saying, "Like mommy, like daughter, can you run from the law on those legs?"
This definitely made it look like A is watching Hanna's mom, as well. Once the money was stolen at the party, Hannah got another message in her pill bottle: "You'll get your money back. If you do what I say. Sweet Dreams."
From there, we saw a mysterious figure putting $100 bills into a clown bank. What will A demand from Hanna in exchange for this cash?!? Perhaps most unnerving about the whole incident was the way A seemed to hover around Hannah and her loved ones. This mysterious stalker could be anyone and anywhere and it really terrified Hannah, who - more than any character - has already experienced how violent A can be.
Hanna was privy to even more revelations this week when Lucas drunkenly confessed to destroying Ali's memorial. Clearly frustrated by Hanna's rejections, he was even more angered with the way Ali had been glorified after her death... but was he angry enough to kill her?
He doesn't seem like a solid suspect, but he could be responsible for harassing the girls with these cryptic messages. He possesses the technologically know-how for sure. Plus, he has real cause to be peeved, based upon his former treatment.
Elsewhere, Aria finally came clean to Ezra about Noel, but she is still not seeing the situation clearly. When Noel came up to Ezra and said, "I think I know enough to get a better grade on this," the implication was very clear.
However, he tried to push all the blame onto Ezra, suggesting there was no blackmail involved. Aria wants to believe him, and her naiveté might get people in trouble. Noel was also the subject of Spencer and Hannah's suspicious glances throughout the party, but he didn't do much to confirm their reservations.
Although a flashback revealed that he might have some hidden grudge against the girls, it doesn't seem like he cares about much except for Aria. He's already trying to turn her against Ezra, although he continues to be sweet, even waving hello at school.
[Photos: ABC Family]
The flashbacks also gave some important clues in piecing together the overall puzzle. Most importantly, Spencer saw a tag on Ian's golf clubs from Hilton Head in South Carolina. It reminded her of the day Ali returned from summer vacation with her grandma.
The day of their infamous sleepover, she saw the same tag on Ali's suitcase.
When questioned, Ali was vague about when and why she was in South Carolina. Ian and Ali definitely had some history together and uncovering the truth should be the girls' top priority. Based upon his conduct so far, suddenly reappearing and quickly marrying Melissa, his actions make him more suspicious than Noel or Toby. What do you think?
Sound off below and/or in our Pretty Little Liars forum!