Justin and Kate comprise one of the coziest divorced couples I've ever seen on TV. They were adorable bantering about barbeque sauce on her boat and very comfortable discussing Justin's legal and moral dilemma over his latest case. 
I'm assuming that we'll see the other side of that coin soon, though. The side where their relationship turned contentious and quarrelsome because if they were always as happy as they were in "Bo Me Once," they would have never divorced.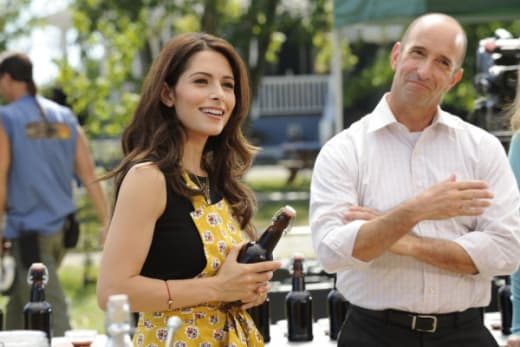 Justin's quandary over his case was a great way to show us more about his character. Even with his boss trying to strong arm him, Justin believes in the letter of the law. He's not about to charge a man with a felony if he doesn't believe it's warranted, even if the higher-up is threatening his job.
My favorite moment of this episode was when Bo accosted Kate outside of Reed & Reed. He grabbed her arm and tried to intimidate her.  She just looked him directly in the eye and gave him her best smile.  Bo is so used to bullying the women in his life he has no idea how to respond to Kate.
The paperweight gun certainly came in handy. Pulling it on Bo stopped him in his tracks. Considering this guy threatened her and her client twice in the same day, I think I would have been filing a restraining order the next morning - but having Bo arrested for extortion and jumping bail on a previous charge certainly worked, too.
How about poor Lauren? She's a smart, capable attorney trying to keep her late husband's business going and a guy like Lou will happily take her advice, but won't keep her on as his lawyer because she's female.  With the amount of Scotch she drank, I'm surprised Lauren was able to suppress the urge to smack him in the head with that pool stick.
If they're going to keep bringing Spencer back, I hope he gets more to do than play the guy torn between his old life and daddy daycare.  And what happened to David Smith, the fourth person mentioned in Teddy's will?  I wish they'd pick up that story thread before the audience forgets about it.  I'm not suggesting they have to solve the mystery, but at least make mention that it exists.
The playful teasing between Kate and Justin at the end made me want to know more about their relationship and why they split up. Let's hope we get intel on their past as the season progresses.
C. Orlando is a TV Fanatic Staff Writer. Follow her on Twitter.