Shameless loves to kick off episodes with Fiona having sex.  But, hey, whatever grabs the audience! 
While Fiona and Steve are having a little wake up intercourse on "Killer Carl," the lights go out.  Surprisingly, it wasn't Carl's fault this time; Fiona didn't pay the bill. Carl, however, did not get off easily for the rest of the episode.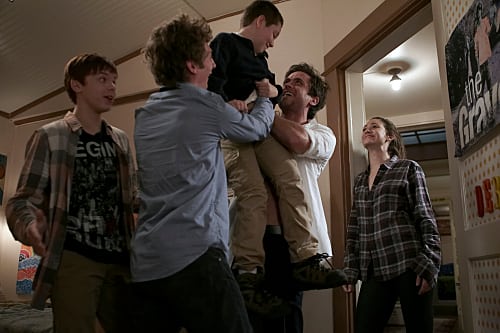 In case Carl's affinity for torturing pets and melting action figures together didn't tip you off to his troubled nature, we found out that he is the school bully.  Between peeing in plants, slamming doors on kids' hands, and the seven "unsatisfactory" marks on his report card, the school is ready to kick him out. Fiona goes to the school to plead his case, but the faculty is sick of seeing all of the Gallagher kids go through their hallways with no guidance or structure.
Failing to find any pretend father figure, Fiona and Lip use their roles as oldest siblings and show up to the school conference. The school is ready to dial up child services when Steve swoops in pretending to be Fiona's fiancé, saying that they are filing papers to become Carl's legal guardians. 
The principal isn't buying Steve's "Norman Rockwell" act. Steve comments that he actually prefers Mickey Hart nodding to a sculpture of two turtles.  If this all sounds a little confusing, it should.  Steve saw a hidden opportunity and asked the principal if they could speak alone.
The two turtles are actually called The Dancing Terrapins, recognizable to any Grateful Dead fan as the cover art for their 1977 album Terrapin Station.  Mickey Hart was a drummer for The Grateful Dead.  The second Steve saw the sculpture, he knew that was his angle.  He smokes up the principal and uses a little bargaining tactic otherwise known as the "teacher's weed discount." And just like that, the family lets out a collective exhale.  Well, almost.
While leaving the school, they see their perpetually absent father at parent/teacher conferences... with Lip's girlfriend Karen.  He was willing to pose as her father to cover his own ass, but he can't be bothered to show up for his own biological child who is very close to being put into the foster care system.  The tears in Fiona's eyes were painful to watch.  As always, she and her siblings are the ones truly taking care of each other.
So, just how did Karen get Frank to pose as one of her parents? Bribery, of course!  Frank idiotically signed up for an insurance fraud scheme involving two goons and a car.  He messes up and now the guys are after him to either replace the car or pay him six grand.  Karen finds him hiding outside from the guys who eventually found him at Sheila's house.  She says she will only go and distract the guys if he poses as her parent for school.  He says yes because when it comes to Frank, saving his behind is his number one priority.
"Killer Carl" was the perfect blend of comedic and poignant scenes.  I'm only knocking it down to a 4.5 rating due to the absence of the much beloved Veronica. Kevin can only be so amusing without his feisty other half.