Justin and Kate make me crazy. They're a fabulous couple who light up the screen with their chemistry. Yet in "Ultravinyl" we saw more glimpses into why their marriage deteriorated.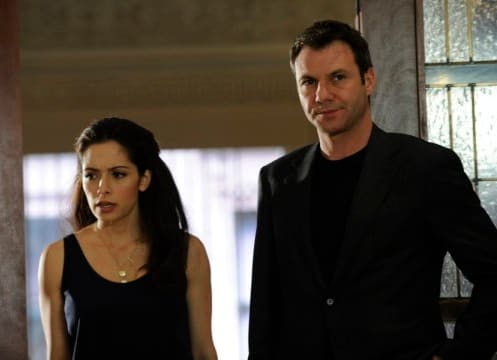 The case of the fraudulent plumber shed light on their communication issues. They either accused one another of letting the plumber get away with shoddy work or they fell back into that flirty banter they do so well.
Even when Justin came by to have a real talk, it quickly turned to sex. Who knew that great chemistry could be a relationship killer? As usual, I enjoyed their fun, sexy side - but I hope we see these two have a more serious discussion about their issues by the end of the season.
Richard Dean Anderson was back as David Smith and I couldn't have been happier. With only two minutes of screen time, he still made an impression. Kate kept coming back to David like a moth to a flame. She just couldn't let this mystery go. I'm guessing that when the truth comes out, she won't like what she finds out about her father.
Was anyone else confused by Leo and Kim the sandwich girl? Just a few episodes ago it certainly seemed as though they were dating. He was sketching her in her skimpy super hero outfit and it felt like they were in a relationship, albeit a casual one. When she showed up this week, Leo acted like he couldn't find the courage to ask her out. I was really confused. 
The case here was entertaining enough. The second I saw Brandon on screen I knew there was an underlying paternity issue. My greatest hope was that Kate would be affected by Paul's death sentence and realize it was time to make some decisions about her relationship with Justin. I guess her character just wasn't there yet.
On the fashion front, I loved Kate's brown skirt at the end of this episode. Not too long, not too short, and very pretty. I want one.
With only two more episodes to go this season, I'll be sad to see one of my new favorite shows wrap up. I hope we get to see more of Anderson and Gerald McRaney. This show certainly knows how to cast its guest stars. I'm also looking forward to more movement from Justin and Kate. As the first season winds down, what would you like to see?   
C. Orlando is a TV Fanatic Staff Writer. Follow her on Twitter.