Pretty Little Liars Review: "Monsters in the End"

Teresa Lopez at .
Wow!
After weeks of complaining about the lack of real progress, I feel like so much happened on "Monsters in the End." While it may have seemed liked an overwhelming amount of information to deal with, I was incredibly entertained by an episode that felt exciting, revealing and a little chilling.There's lot to cover this week, so I'll just get right down to it.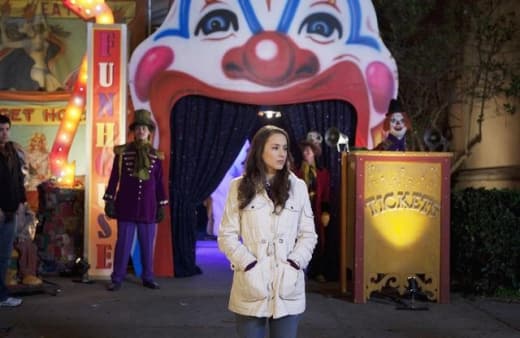 Spencer really is bearing the brunt of A's anger. Her family's best efforts to raise her spirits involve forcing her to work with the one person who shouldn't be allowed near her. But she makes the best of a difficult situation, snidely commenting on Ian's familiarity with Hilton Head.
The little dig not only made her feel better, but it also revealed some telling information. Melissa's slip up about the ocean-view rooms suggests that she was never at Hilton Head with Ian. As I have suspected, she's really doing whatever she can to cover for her husband, but I'm still not sure why. Her pregnancy gives a good reason to keep him out of trouble. Or maybe she really is colluding with him on some bigger scam.
Ian seems determined to threaten Spencer into keeping quiet, which really makes him suspicious.
Regardless, Spencer seems likes she's through playing nice, which really angered A (
and/or Ian
). When she tries to meet Toby by the funhouse, she follows a text that is supposedly from Toby and enters the building to find a message from A ("Shut up or I'll shut you up!") before being locked in one of the small enclosed chambers. Why would any of these girls trust a text from an unknown number? Haven't they learned
anything
by now?!?
Unsurprisingly, Ian sets her free... but her family is with him, so she's saved from more mischief. Throwing caution to the wind, she embraces Toby in front of her family, thankful to be safe.
Elsewhere, Hanna is really breaking my heart. Everyone understood that she was genuinely hurt by Caleb, but still needed him to find out what Jenna wanted. She did her part and found out about the mysterious key that Ali had actually hidden in a snow globe she gave to Emily, but it was clear that Hanna has really been changed by her romantic escapade with Caleb.
She was suddenly suggesting that Aria create a fake social network page to trap Ezra in a lie. She's a far cry from the sweet, open-hearted girl from just a few episodes ago. Caleb's continued efforts to apologize and say goodbye were also sad to watch. It was terrible to see Mona tear up his note, but not unexpected since Mona suddenly wants to be Hanna's best friend again. She should have at least told Hanna what he really wanted.
I don't think this is the end for Caleb and, hopefully, he'll be back next week.
Despite breaking Hanna's heart, Caleb's information led to a pretty big discovery: The key! The key opened a storage locker and a whole set of new questions: How did Allison get these videos? Who was spying on these teenage girls for so long? Was the voyeur also a killer? The identity of this secret video-taper remains a mystery for now, but the usual suspects still come to mind - Ian, Toby, Jenna? Or it could it be someone we haven't even considered yet.
In other news, I thought Aria showed that she was at least a little more mature than your average high school girl when she chose to confront her suspicious about Ezra directly rather than engaging in social networking subterfuge. She wasn't happy to find out that Ezra was once engaged, but at least they've honesty dealt with his past. And it seems like there might be big trouble for the happy couple after Garrett's visit with Ezra. Their little romance might not be so secret anymore.
I've really reached my limit with the Paige drama and it looks like Emily has, too. Even though she flaked on the meeting and, possibly, her future with Emily, Paige did introduce her secret girlfriend to a whole new set of open and proud lesbian friends, so that was a plus.
Overall, I thought this episode gave us some thrilling moments and definitely heightened my anticipation for next week's finale. It's gonna be epic.