One Tree Hill Review: Mothers and Daughters

Dan Forcella at .
It has been over a month and a half since One Tree Hill has aired a new episode, which is why I found it strange that it seemed like over half of "Quiet Little Voices" was footage from seasons past.
On the one hand, you could say that the numerous flashbacks were a great way of cutting corners so they didn't have to shoot new footage. On the other hand, many of the flashbacks they used were fantastic at building the emotion of the characters.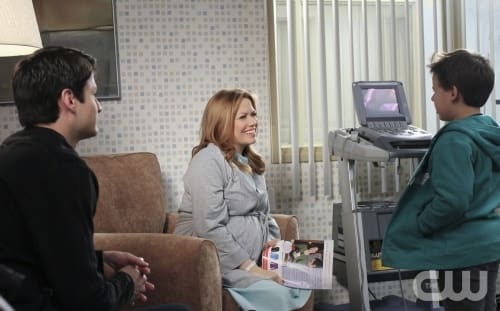 For me, they were mostly a time to relive the glory days of One Tree Hill. You know, the days of the overbearing father and a young couple falling in love. Oh and a pimply faced James Lafferty that had not yet learned how to act. Those were the days people.
I'm not entirely sure what the point was of a couple of those Quinn flashbacks, but the Haley/Nathan and Brooke/Julian flashbacks served two specific roles, each working perfectly in its own right.
Even though it has been a month and a half since Haley and Chloe went into labor, it was still easy to see that "Quiet Little Voices" was about these two long time friends becoming mothers of daughters for the first time.
Each time we flashed back on Haley and Nathan, the romance and the intensity built up, making the audience more and more excited for them to have their own little girl.  When little Lydia Bob Scott came out healthy and happy, it was really great to see the entire family (yes even Jamie, who I'll get to later) so happy.
Meanwhile, the same sort of arc was happening with Brooke and Julian. Every flashback seemed to be about how these two had such trouble, but their love for each other helped them stay afloat.  Ever since we learned that Brooke could not get pregnant - a flashback scene that reminded us of how great Sophia Bush really is - it has been desired by every fan to see Brooke as a mother.
So when Chloe's boyfriend/ex-boyfriend walked into the observation room, I lost it. I knew exactly what was going to happen, but that didn't make it any less heart breaking when Brooke and Julian walked into the delivery room and saw the smile on Chloe's face as she held her new born daughter.
It was all over for Brulian. They were going to have to start the process all over again, and it was truly hard to watch.  This is why Brooke is so awesome though.  Did she go throw a tantrum?  No.  She gathered herself and congratulated her friend Haley and held Lydia Bob in her arms. How so freakin' sad.
Other Thoughts
I didn't want to go into too much detail on this subject, because he's just a kid, but Jamie was ridiculously difficult to take this week.  Just so completely lame with one line after the next.
The Clay/Quinn dynamic actually really worked this week.  The more these two can stick to ribbing each other, and the less melodrama they get themselves into, the better.
I loved that they mentioned how Haley slapped so many people, and then could only flash back to two instances. The third wasn't even a slap, so they literally only had two times when she slapped someone.  Wow! Twice in eight seasons. She's really mean!
A lot of players missing from this episode, but obviously the two I missed most were Chase and Chuck.  I can't wait much longer before seeing these two mix it up again.
This was Austin Nichols' directorial debut, and I think he did a fine job.  The flashback sequences were done well.
The theme song this week was performed by Laura Veirs.
Overall, not a bad return from One Tree Hill, but I'm looking forward to an episode full of new footage.  How about you all?  What did you think of "Quiet Little Voices?"
Dan Forcella is a TV Fanatic Staff Writer. Follow him on Twitter.