Gina Torres has a message for Suits viewers and even her own Suits co-stars:
"Jessica is the smartest person in the room!" the actress told me today, extolling pride over her character on the new USA drama, which premieres tonight at 10. "She's a powerhouse, an authoritative, no nonsense woman, who has achieved great things in her career without losing her sense of humor or what makes her feminine."
Sounds like the complete package.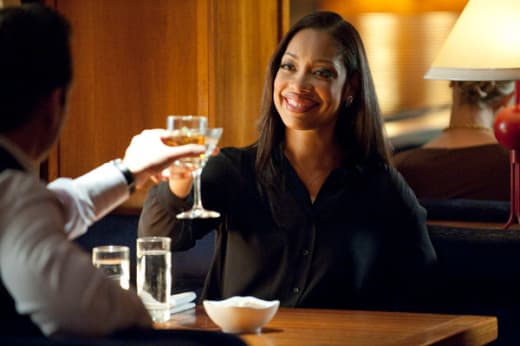 Jessica is Harvey Specter's boss at Pearson Harden and, as the weeks carry on, we'll learn more and more about her background and her intentions ("the onion will be peeled," Torres teases).
We may also hear Jessica utter a naughty word or two, as
Suits
is edgier than most other shows on USA. That's intentional, the actress says.
"Why piss away a 10 p.m. timeslot? We're on Thursday nights, toward the end of the week. Everyone has built up tension from four days of work and we want them to vicariously through this heightened sense of reality."
Suits is a legal series, of course, which makes its most basic premise (court cases of the week) akin to every third show on TV. But Torres points to a "level of excellence" that separates this cast, crew and script.
"We have a fantastic cast," she says. "We have a chemistry. There's a level of excellence in how we play with each other, with the material; there's a level of excellence to the material itself... you will be able to laugh, genuinely laugh. You won't be manipulated to feel anything, from sadness to humor."
I also had to ask: Gossip Girl and The Vampire Diaries are two TV Fanatic favorites. What was her experience like shooting those two CW hits?
"I had a fantastic experience on both... I was pleasantly surprised by how dedicated and mature all those young actors were, considering their average age and just how huge the shows are. They are so grounded and dedicated, just lovely, lovely people to work with."
The Vampire Diaries killed off Bree, but would she return to Mystic Falls if the show could revive her?
"They don't even have to," Torres said. "If they wanna have me appear with a giant hole in my chest, that's cool."
Matt Richenthal is the Editor in Chief of TV Fanatic. Follow him on Twitter and on Google+.