"You gotta do it right?  You can't let people take advantage of you." - Joe Tranelli
With these words to Owen, Joe helped his friend take care of business at work, while convincing himself to lay down the law with his new bookie business. Thankfully for Joe, only one of those circumstances came true in "Can't Let That Slide."
It seemed daunting to come back with another great episode after "A League of Their Owen," but by continuing to give Ray Romano and Andre Braugher terrific material to do their respective things - and allowing Scott Bakula's Terry to find himself in weirder and weirder situations that make for comic relief - enabled Men of a Certain Age put forth another quality hour of television.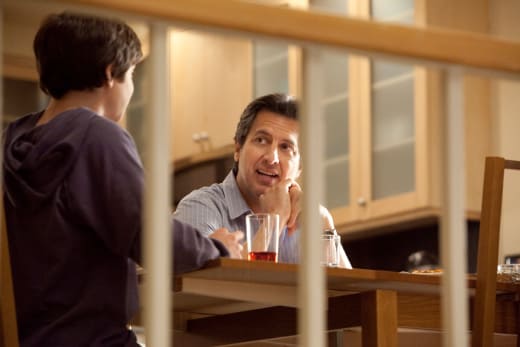 Joe's trouble in dealing with the fact that he had somehow taken on his own side bookie business with some of Manfro's customers came to a climax when his new client bet five grand on Kentucky. The story became that much more interesting because I could have seen it going in a number of ways. Joe could have lost, but we've seen that before.
So he won - the Dukies pulled it out for him - but the client wasn't paying up. So, following his advice to Owen about not letting people take advantage, it seemed the addict was ready to take what was rightfully his. Honestly, I wouldn't have had a problem if Joe had gone down such a dark path, but that's just now who he is.
The way he has struggled with the entire process of being a bookie, from not knowing how to handle the clients to not wanting anyone to find out about it (and even feeling a bit dirty that Michelle was turned on by it) showed that Joe was better than this world. And, in the end, it took the five-thousand-dollar man breaking down in a very Joe Tranellian-way to convince the new bookie that this wasn't his bag.  
As a fan of seeing Joe grow as a human, I was pleased to see it end that way.
Although it didn't seem like he needed the advice of Joe, Owen did take his pal's words and run with them, as he fired Bruce after 30 years with Papa Thoreau. It's amazing what a few little video cameras were able to do for the Thoreaus, and for our viewing audience. Between helping the salesmen with their customer service, catching Bruce in the act, and catching all of Terry and Erin's antics, those things were worth whatever Owen paid for them.
As I said, the cameras were a great deal of entertainment for us, as well. There were few funnier moments than Lawrence taking his shoes off on a test drive... unless you respond with Lawrence explaining to Owen that he has a foot condition. But watching Melissa geek out at the spy footage as if she were watching the newest episode of The Vampire Diaries was equally as fun, especially as she and Owen sat down for the most recent installment of Terry Makes a Fool of Himself.
Seriously, what is wrong with Terry? And am I the only one who can't stand him? It was just another thing this week, as he made a mountain out of a molehill with Erin's big day! Not everything has to be the most important thing of all time guy. Like Erin said, most people would have been happier with a glass of wine, followed by another glass of wine. And as long as you give them a comfortable place to go to the bathroom, they will be yours forever.
Sometimes, even if you force them to wet their pants, they may be yours forever, because it was almost immediately after Erin's accident that she accepted Terry's request to move in together. Oh yeah! This isn't going to cause more problems. And we all though him bringing her to the diner for guy time was the worst he could do.
I thought "Can't Let That Slide" was a nice comeback from the fantastic "A League of Their Owen." How excited are you to see Terry and Erin move in together?!?
Dan Forcella is a TV Fanatic Staff Writer. Follow him on Twitter.