Wow. Normally, I like to wait until the following morning to post my reviews, but this week's South Park left me with the desire to share my take with fellow fans. Greetings, TV Fanatics!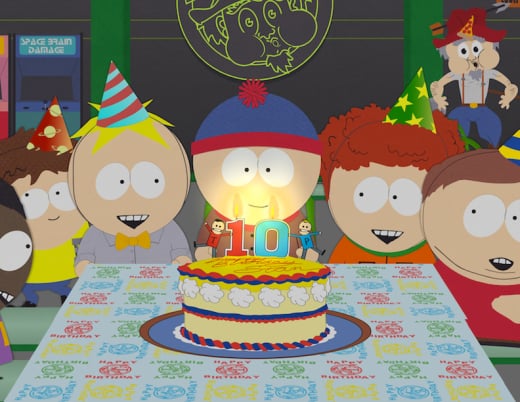 Tonight was the South Park mid-season finale and, boy, did Matt Stone and Trey Parker know how to end things. All season, I've heard critics complaining that the two have lost interest in their show and would rather be working on their musical and other projects.
But seldom did it I believe it was true. Sure, this season has only been average, but there's been some decent episodes and some great ones over the last few weeks. So you could imagine I didn't believe Stone and Parker were done with their sitcom until the comedic geniuses expressed their opinions through Sharon and Randy's failed marriage.
"It's like the same story keeps happening every week, only it keeps getting more and more ridiculous."
Obviously, 15 seasons in, the guys are allowed to get sick of their show. But after giving me all these years of brilliant satires, where will I tune into to see fourth graders rip on the NCAA or medicinal marijuana?  Okay, before I spend anymore time lamenting the possible loss of my favorite series, it might be time to discuss this week's adventure, "You're Getting Old."
By now, all South Park fans have probably been able to identify with Stan's growing older at least once in their lives to appreciate the dubstep 'tween wave sounding like shit. Hopefully, you don't have the condition of being a cynical asshole, where even treasured Adam Sandler, Jim Carrey and Kevin James movies look like shit.
Meanwhile, as Sharon pointed out, there was the ever ridiculous Randy back to re-claim his youth. This time around he put down his World of Warcraft armor, and picked back up his guitar as Steamy Ray Vaughn. Pretty clever to see him trying to imitate the "shit" sound he heard in his head while listening to the kids' music as he played live.
The scene stealers, meanwhile, were the two little old men who analyzed the 'tween years and sought to save the breeches of Steamie Ray Vaughn and Nicks. Speaking of Steamie Nicks, let's hand back to the ending set to her lovely song, Landslide.
I'm not sure which was tougher, watching Sharon and Randy separate or watching Stan's innocence end. Or maybe it was watching Cartman and Kyle become friends. No, it was definitely just realizing that South Park was coming to an end.
Well, at least Parker and Stone are contractually obligated to give us seven more episodes. Suckers. But if tonight was any indication, at least they decided to shake things up for the last seven and won't just keep telling the same story over and over again.
For that and the lasting impact, I'm giving this episode the highest score of the season. And, personally, especially after this rambling review, I'm ready to welcome the end of this show's glorious era and can't wait to see where they'll take us. You?
Eric Hochberger is the programmer of TV Fanatic, so please forgive his mediocre writing. His programming is far better. Follow him on Twitter and/or email him. Just don't request threaded comments. They're coming.