TV Fanatic Emmy Preview: Supporting Actor in a Comedy

Dan Forcella at .
The 2011 Emmy Awards will be hosted by Jane Lynch and air on September 18. Over the weeks leading up to the event, staff writer Dan Forcella will watch every episode submitted by various actors in various categories and present to you his analysis on each contender.
It's the TV Fanatic Emmy Submission Mission, readers, and it started with Lead Actor in a Comedy, continued with Lead Actress in a Comedy, and now, we're on to Supporting Actor in a Comedy, which feature FOUR men from one show...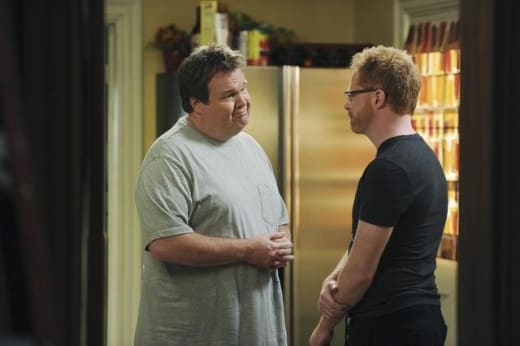 Ty Burrell has been the favorite to take home the crown for the past couple of months, but that's mostly because of his performance over the entirety of season two, and pundits figure the voters won't give Stonestreet back-to-back wins. Burrell's submitted episode, "Good Cop, Bad Dog," certainly is a strong showcase for him. 
He's funny while having a difficult time trying to be the bad cop to his children, but then becomes hilarious as he turns into an evil monster of torture upon getting sick of Haley and Alex's behavior. The problem for Burrell is that Jesse Tyler Ferguson is even better in the episode.
Ferguson, who surprised many by making it into the field for a second year in a row, kills in "
Good Cop, Bad Dog
," with all of his efforts to make it to the one gay cliché he allows himself, a Lady Gaga concert. Of the four
Modern Family
men nominated, Ferguson's Mitchell has been my least favorite over the first two seasons, but in these four episodes he may be the best. In his own submission, "Halloween," he gets to don a Spider Man costume, hide on top of a toilet, and then climb down the side of his building to escape the horror of being seen in said outfit at work.
Also with a couple of highlights in "Halloween" are Burrell and Eric Stonestreet. Phil gets bad news about a neighbor getting a divorce, which forces him to be as awkwardly romantic as ever with Claire. Meanwhile, Stonestreet's Cam spends the entire episode complaining about how Halloween was ruined for him as a child, which crescendos with Cam spewing out the story of how it was ruined in front of a bunch of children at the haunted house. 
Stonestreet is definitely the highlight of his own episode, "Mother's Day," where he gets to complain about being treated like a mother to Lily and a wife to Mitchell; however, Ed O'Neill is given the most emotional moment. O'Neill's Jay cries for the first time ever when Phil reads him a poem young Jay wrote to his mother.
It is hard to count out O'Neill, who many many wish to award for his extensive resume, but his character is just too steady. This award has perennially gone to the funniest among the bunch, as exemplified last year with Stonestreet and "Fizbo." O'Neill did a great job in choosing "The Kiss" as his episode, because he definitely is the leading man of the half hour, but it just isn't a great episode. 
Jay Pritchett has to get over his fear of kissing his son, but Mitchell is just as antsy about kissing his dad, and kissing his partner in public, which gives Ferguson even more material with which to work.
At the end of the day, each one of the Modern Family men has something in their corner. Stonestreet is the defending champion. Burrell has been the frontrunner and probably the funniest for the season. O'Neill is the legend that is due. And Ferguson... well, Ferguson put forth the best performances of these four submitted episodes.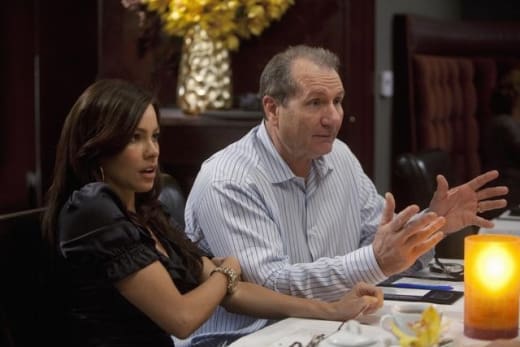 I certainly have not forgotten about Chris Colfer of Glee, who is right up there at the top of everyone's leader board in 2011. While I'm not the biggest fan of his show, I've seen every episode, and recognize the talent of Colfer as an actor. I can't stand Kurt on a regular basis, but that is beside the point. He failed to top the Modern Family crew last year, so I'm reluctant to think that he will do it this year, but he certainly had a lot of material to work with in his submission, "Grilled Cheesus." 
Last year, he submitted "Laryngitis," which allowed Colfer to work with all of the emotions that came from Kurt's father not understanding the kid's sexuality.  He chose something similar this year, with Kurt dealing with his father's heart attack, and his lack of religious beliefs. It certainly is an outstanding performance, but the lack of comedy in the episode could be a problem.
Finally, Jon Cryer of Two and a Half Men won this award in 2009, but I am giving him a 0.0001% chance of winning again. Some were surprised that he received the nomination. I wasn't. I was sure plenty of voters were going to give him the nom if only for everything he's had to deal with surrounding Charlie Sheen, but that doesn't mean he can still win this thing. I, like most critics, have never enjoyed the series, but it still has a lot of fans. Cryer has some decent material in his submission, "The Immortal Mr. Billy Joel," but it's not enough to get past how passé the show is.
How will it shake out? I predict:
Jesse Tyler Ferguson – Modern Family
Ty Burrell – Modern Family
Chris Colfer – Glee
Eric Stonestree – Modern Family
Ed O'Neill – Modern Family
Jon Cryer – Two and a Half Men
Dan Forcella is a TV Fanatic Staff Writer. Follow him on Twitter.