2 Broke Girls Review: Crossing Too Many Lines?
Kris Hekmi at .
Tonight's "And Strokes of Goodwill" started out promising.
I had a few hearty guffaws in the first nine minutes. The laugh caught in the back of my throat, tickling some uncomfortable feelings, when the first ethnic group-based "joke" was uttered. I put "joke" in the quotation marks because it fell flat for me, and also made me do a double-take. Wow. Brazen. There was nothing elegant about that one, and there was nothing elegant about the rest of the episode, either.
Before I talk about this installment's many missteps, let me talk about the good stuff first.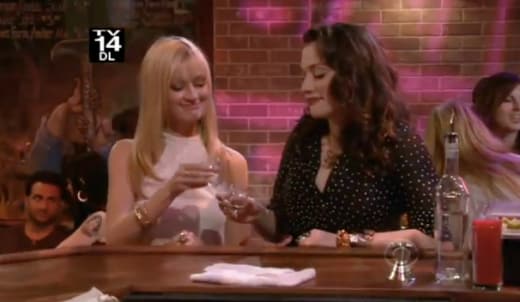 The Good. The first nine minutes. Yes, the usual (and baffling) racial caricatures made their appearance, one after the other, as if the creative team still hasn't figured out how unfunny they are. I managed to ignore it.
The banter in the restaurant between the two girls, as well as the first few minutes in the Goodwill store, were what I considered good comedy. I honestly even thought to myself: yes, they are really giving this show some heart. As Caroline stands in the store holding the shoes she donated, her face crumples. She starts to realize the seriousness of how far she's fallen. How diminished her status is. 
Max, instead of going "there, there" offering awkward comfort, turns around and runs away. When Caroline confronts her, Max tells Caroline that soon she'll learn to mourn in the inside. That's what Max had to learn to do. There was no one to "there, there" her in her life. It was a true-to-character reaction. Very Max, and quite funny. It would have been quite a bummer if they got serious all of a sudden on this show. They touched on the serious briefly, and then went right back to comedy.
Unfortunately, that  didn't last long.
The Bad. I want to like 2 Broke Girls. I do! But why did it have to lose any semblance of sensitivity tonight? There I was watching, laughing, enjoying, and then... BOOM! Puerto Rican slur. BAM! Black drag queens. WHAM! Cambodian strippers. One of them could have been funny. Taken all together they were overkill, and they murdered my own goodwill. I sat there agog, the racial profiling jarring me out of anything else that may have been funny (which wasn't much).
On top of that was the excessive use of the B-word, in both English and Spanish. For some reason, the Spanish version sounded even more offensive. I'm no prude. I watch plenty of R-rated shows. I enjoy HBO, and Showtime. I'll admit to laughing at 2 Broke Girls' orgasm jokes, although last week's was better than tonight's.
However, in a sitcom like this, I do think that the use of any profanity (and sexual jokes) should first be clever, and second judicious. You just run the risk of shocking an audience for no good reason. You also run the risk of turning off even more of the audience who would otherwise give plenty of leeway, had the clever and judicious rule been followed.
The show needs to right a lot of its wrongs tonight. And they really, really need to do something about those three walking stereotypes that work with them in the restaurant. They have such a great lead in Kat Dennings, and a pretty good co-star in Beth Behrs. I would hate to see them squander that. Johnny, the bartender introduced tonight, is a step in the right direction. Let's see more of him in the future, and less of the co-workers.
More comedy that doesn't offend different demographics would be nice, too. At least there were some funny lines, though. Here are some of them.