Simply put, November will be a month to remember on The CW.
Starting with new episodes of The Vampire Diaries and The Secret Circle tonight, the network will embark on November Sweeps episodes that include special guest stars, musical performances and every twist and turn you can imagine. Read on for a few teases, courtesy of a new press release...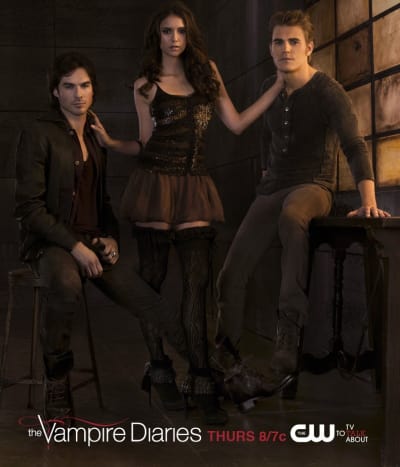 Thursday, October 27
THE VAMPIRE DIARIES – "Ghost World" (8:00-9:00pm)
As Mystic Falls prepares to celebrate the traditional Illumination Night, the town is invaded by spirits of the dead.
 
THE SECRET CIRCLE – "Masked" (9:00-10:00pm)
Cassie throws an epic Halloween party that takes a dangerous turn.
Friday, October 28
NIKITA – "343 Walnut Lane" (8:00-9:00pm)
Nikita and Michael track down Nikita's father Richard (guest star David Keith), but the reunion is not quite what Nikita expected.
 
SUPERNATURAL – "Slash Fiction" (9:00-10:00pm)
Sam and Dean are once again on the FBI's "Most Wanted" list when two Leviathans clone the brothers and go on a killing spree.
Tuesday, November 1
90210 – "It's The Great Masquerade, Naomi Clark" (8:00-9:00pm)
Naomi has to work with her arch-nemeses Holly to throw a campus costume party, while Silver discovers that political candidate Marissa Harris-Young is not who she seems.
 
RINGER – "Oh Gawd, There's Two of Them?" (9:00-10:00pm)
Still posing as Siobhan, Bridget is forced to reveal she has a twin to Andrew and Henry when Agent Machado starts closing in.
Wednesday, November 2
AMERICA'S NEXT TOP MODEL – "Game" (9:00-10:00pm)
Rapper Game directs the models in music videos based on songs they've written.
Thursday, November 3
THE VAMPIRE DIARIES – "Ordinary People" (8:00-9:00pm)
Elena and Rebekah engage in a mean-girl power struggle, until Rebekah finally reveals some of her family's ancient secrets and the violent past she shares with Klaus and Elijah.
Monday, November 7
GOSSIP GIRL – "I Am Number Nine" (8:00-9:00pm)
Blair auditions her potential bridesmaids.  Elizabeth Hurley continues her guest starring role.
HART OF DIXIE – "The Undead & The Unsaid" (9:00-10:00pm)
Zoe's mom shows up in Bluebell hoping to reconcile with her daughter after keeping the identity of Zoe's real father a secret Zoe's entire life.
Tuesday, November 8
90210 – "Vegas, Maybe?" (8:00-9:00pm)
The gang heads to Las Vegas, where Naomi meets Austin's dad, country superstar Judd Ridge (guest star Billy Ray Cyrus). The guys run into a celebrity (guest star Vinny Guadagnino) at the pool.  Teddy and Shane (guest star Ryan Rottman) decide to tie the knot,
RINGER – "Maybe We Can Get A Dog Instead?" (9:00-10:00pm)
Juliet (Zoey Deutch) continues to form an unlikely bond with her teacher Mr. Carpenter (guest star Jason Dohring).
Thursday, November 10
THE VAMPIRE DIARIES – "Homecoming" (8:00-9:00pm)
The Homecoming dance takes a surreal turn when Klaus puts his latest plan into action. The band My Morning Jacket performs in the party scenes.
Friday, November 11
SUPERNATURAL – "Season 7, Time for a Wedding!" (9:00-10:00pm)
Dean reluctantly teams up with a quirky, laid-back hunter named Garth (guest star DJ Qualls), when he finds himself in a situation that he just cannot explain.
Monday, November 14
GOSSIP GIRL - "The Big Sleep No More (8:00-9:00pm)
The Upper East Siders attend the theater production Sleep No More. Diana tries to enlist Serena to take down Gossip Girl.
HART OF DIXIE – "The Crush & The Crossbow" (9:00-10:00pm)
Nascar's Brian Vickers makes a cameo appearance.
Monday, November 21
GOSSIP GIRL – "All The Pretty Sources" (8:00-9:00pm)
Serena throws Blair a wedding shower.
Matt Richenthal is the Editor in Chief of TV Fanatic. Follow him on Twitter and on Google+.