NCIS: Los Angeles Review: Blindsided!

Carla Day at .
I usually can see twists and turns coming, but "The Debt" got me. I was blindsided not once, but twice. I never even considered that Deeks didn't shoot and kill that guy. I should have been suspicious when Callen and Sam were nonchalant about him leaving the team. I thought it was odd, but figured maybe they really didn't like him after all.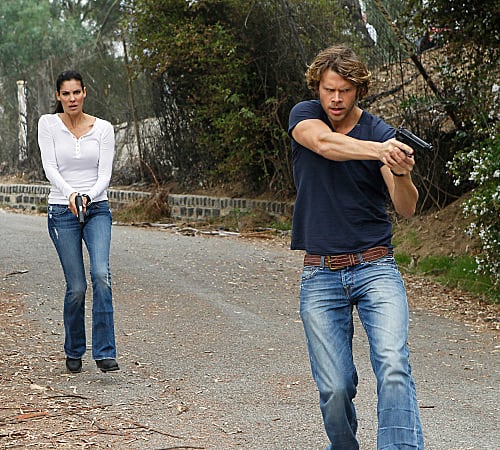 Now that I consider it, that is crazy. Sam is strong in his conviction that you leave no teammate behind and if the shooting was real, he would have been right there helping Deeks out. But they all needed to have Kensi frustrated and angry so she could honestly vouch for Deeks. Their plan worked!
She was more forgiving than I think I would have been. However, a favor from Hetty could come in handy. Plus, she understood why they did it even if she wasn't happy about it; it comes with the job. I hope the show doesn't just drop this when it returns next year.

Kensi and Deeks need to have a heart-to-heart, don't they? Don't get me wrong, I don't want to see them get together romantically at all. They are incredible together - as partners. Regardless, they need to clear the air. If the same situation happened between Callen and Sam, I'd feel the same way.

The other twist I didn't coming was about the mole. Duh! I thought Bates was the mole until Kensi got the phone call about Quinn. How could I not have seen that coming?!? I was so wrapped up in the team dynamics and Deeks trying to clear his name. I never considered Quinn, when he was right there trying too hard to get involved in the case.

Overall, I enjoyed the episode above others because I was blindsided. The writers did an amazing job putting together that mind-blowing twist. I was wondering how Deeks would get back with NCIS, but turned out he never left! The question is: will he remain an LAPD-NCIS liaison or will he turn in Hetty's letter to become a full-fledged NCIS agent?

Were you surprised by the Deeks shooting twist, too? Love it? Hate it?
Odds and Ends
It was refreshing to see an episode that didn't focus on Callen and/or Sam. After last week's emotionally-charged Sam-centric story, this was the perfect follow-up.
Deeks getting his hair cut would have been a tragedy.
Oh, Deeks out on a ledge. How did he remain so calm? Lucky that the window next to Bates was open.
Did you catch that it was Deeks who leaked the raid at the end to Quinn on the phone?
"Just don't let that little ninja lady come after me!" Ha! Gotta love everyone knows and fears Hetty!
Deeks doesn't see Kensi as a female ... umm, what? She is one of the "guys," but his interactions with her indicate that he does realize she is a female. I'm guessing he just doesn't handle girly stuff well.
Carla Day is a staff writer for TV Fanatic. Follow her on Twitter and on Google+.