TV Fanatics are about to enjoy a double dose of Torrey DeVitto.
The actress will make her return to Pretty Little Liars soon after it returns with new episodes next week, while she also debuts next month on The Vampire Diaries. DeVitto offered a preview of her latter character, Dr. Mary Fell, over the phone with me on Friday.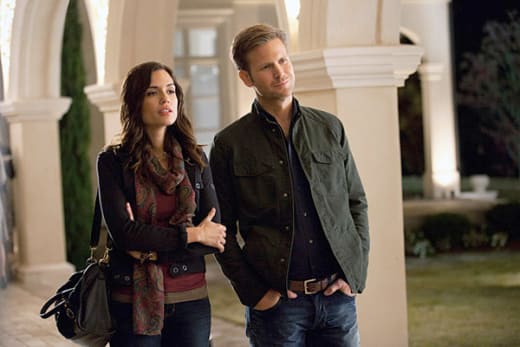 "She meets Alaric and is fascinated by his ability to recover from medical incidents so quickly," DeVitto said. "And that professional fascination turns into a romantic fascination."
Wait... what happens to Alaric?!? Does DeVitto's Dr. Fell meet him in the ER?
"Quite possibly," the actress simply teased.
DeVitto said she has watched The Vampire Diaries off and on - she is married to star Paul Wesley, after all - but she wasn't familiar with Alaric's extraordinarily bad (read: deadly) history with women to date. Will Mary survive the relationship?
"For the sake of his character alone, I hope so," she laughed. "Hopefully I don't burn up in flames or try to kill him or anything. He deserves a better ending than he's had."
DeVitto has filmed four episodes so far and assured me her character has no supernatural abilities.
Over on ABC Family, meanwhile, the actress will be back as Spencer's pregnant sister, Melissa. No, she did not reveal to me the identity of A, partly because she doesn't know it.
"I need to have a 30-minute conversation with [creator Marlene King] every week," DeVitto said. "There's so much going on, I feel like I'm reading the script in Spanish. And even at the end of the conversation, I still don't know what's going on!"
Can she offer fans any kind of tease for what's ahead, though? A smidgeon? A morsel?
"The one thing you can always count on in Rosewood is that things are not what they seem," she said. "Expect more twist, turns, surprises. And a lot of juicy stuff between Spencer and Melissa."
Pretty Little Liars airs a new episode on January 2, while The Vampire Diaries is back on January 5.
Matt Richenthal is the Editor in Chief of TV Fanatic. Follow him on Twitter and on Google+.