NCIS: Los Angeles Review: Sam Can't Forget

Carla Day at .
One of the notable characteristics of NCIS: Los Angeles is the show's willingness to bring old cases back.
Along those lines, "Exit Strategy" was the continuation of November's "Betrayal," the episode where Sam went to the Sudan to bring down the war criminal Tahir Khaled. Unfortunately, Khaled's sister Jada was caught in the middle. She thought Sam was in love with her, but instead he was using her to catch her brother.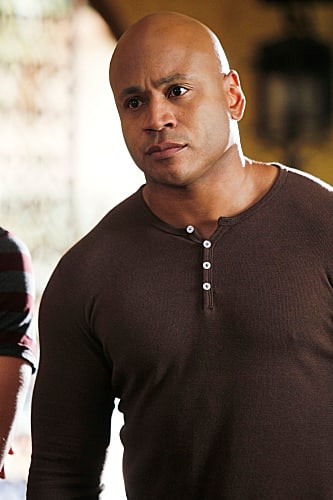 Jada was brought to the United States to testify against her sibling, but someone didn't want to see that happen and tried to kill her. While being transferred, her transport vehicle was attacked, though the assassination attempt was unsuccessful.
This was a difficult case for the team because it knew how emotionally invested Sam was in Jada. Despite having a family, Sam did genuinely care for Jada, just not as deeply as she grew to care for him. He also felt responsible for her because it was his actions that put her at risk.
The scene between Sam and Jada in the interrogation room was very touching. You could see the pain on both of their faces. Jada hadn't forgiven Sam and he hadn't stopped caring for her. After "Betrayal," the comments were mixed regarding whether or not Sam had crossed the line or not. Was he just doing his job and befriending an asset or did he go too far?
During their conversation, we found out she was not initially part of his mission. He didn't set out to use her to bring down her brother. Instead, he talked to her and befriended her because she "looked lonely." While that doesn't absolve him of responsibility for the situation, it makes it more understandable. While Khaled was her brother, he didn't treat her well. Sam was using her to bring down a criminal, but also to try and protect her.
In the end, Khaled was not the one who put the hit out on his sister. Instead Montalban International, a go-between for Khaled and the French government, kidnapped Elmslie's family and forced him into killing Jada. Elmslie faked the assassination in order to bring NCIS in to investigate.
The NCIS team was able to protect Jada, Elmslie and his family, while taking Montalban into custody. This case is not over, though. Khaled was in hiding, but Eric was able to track him and found out he was headed to the United States. It's only a matter of time before the team brings Khaled down. Perhaps they will be in a situation to kill him and save Jada permanently from her brother.

Odds and Ends
What happened to the opening credits? One of my favorite parts of NCIS: Los Angeles is the theme song that played at the beginning. I missed it! I hope the short one-screen opening was temporary.
Granger left, but Hetty said he will return. It was refreshing to know he won't be a permanent fixture in the boat house. I'm not awaiting his return.
The undercover stunt by Deeks and Kensi was enjoyable to watch. Deeks was great at being mean. And Kensi played the crying, incompetent assistant well. They definitely are the best NCIS team for uncover plays.
Jinx! Always love the interplay between Nell and Eric. Nell may have paid up, but Hetty always seems to win.
I hope that we see Jada again and she forgives Sam. He didn't mean to hurt her and if she could move on it would be a great ending.
Carla Day is a staff writer for TV Fanatic. Follow her on Twitter and on Google+.