Castle aired the second hour of the annual two parter this week, as "Linchpin" picked up right where we left off last Monday and was arguably the quickest hour of television in history. So let's get into it, Castle Fans.
This series is great at putting out kooky episodes that are light-hearted and entertaining. They are also usually tremendous at each season's double dose of a case, too. Even though season four's was good, it wasn't as strong as some before it.
Case Wrap-up. Let's start by saying: Sophia, you will not be missed. Jennifer Beals rocked it last week and still put on a great performance, but I can't say that I was sad to see her fall.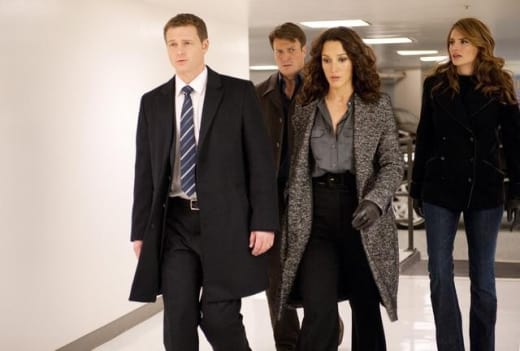 The usual twists and turns took place from Blakely to Gage to Danberg to Sophia. The camera views started to make it pretty obvious that Danberg was going to be the next person to blame, and there is no fun in knowing the criminal before the last 10 minutes. It was a great twist to make Sophia the mole, even if it was a bit predictable. 
Didn't expect Sophia to be from another country, let alone masterminding the linchpin to start WWIII. Let me ask a question to viewers: Was it really believable that a Chinese businessman's daughter could start a domino effect leading to another world war?
Regardless, the case was interesting and entertaining from start to finish, just the way we like it.
Crash Into Me. The hour picked up with Beckett and Castle's car crash, which felt a bit shortchanged. First, it didn't make you nervous like previous two-parters. There was no way both were going down in an accident. We didn't get to see the actual escape, making it seem like a bit of a shortcut by the writers to just give us a cliffhanger from week to week. 
The Triangle Gets Chatty. Secrets came flying out between the partners and some were juicy.
Beckett straight up asked Sophia about her past with Castle. Jealousy was getting to our girl when Castle admitted to sleeping with her.
Sophia spilled the beans to Kate that after hooking up with the writer, the tension got lost and there was nothing left. Of course, Kate is thinking the same thing could happen. 
Kudos to Castle for manning up to his

girlfriend

 partner about his relationship. 
What's to Come. We know that the two have to eventually address Castle's, "I Love You." But don't forget Castle's working on Beckett's mom's case. The writers use this arc as a backbone to the series. We know he works on it, now let's see him doing so. 
After Thoughts:
Stana Katic is gorgeous. The girl knows how to work those curls and can even work car crash wet head.
How intense was Blakely's room of connections? Loved it.
There was minimal time for Ryan and Espo and no love for Gates. Hopefully they are back in a bigger way next week.
Alexis overhearing Beckett tell her father to "sleep with whomever you want, the more the merrier" was priceless. 
This was a solid ending to the fourth season's big case. It doesn't rank as the best they have done (that award still goes to "
Tick, Tick, Tick
" and "
Boom
!"), but it was entertaining, kept you on the edge of your seat, and proved once again that
Castle
knows how to bring the suspense. These two-parters are another reason to love this series and I know I am not alone, even into the fourth season.
Fanatics, hit the comments and let us know what you thought of "Linchpin." Was the actual linchpin a let down? Were you able to predict that Sophia was the mole? Did you think Kate was warranted in her jealousy? How does Season Four's two parter rank with the other seasons?