This was a midseason return that only Psych could deliver: Despereaux, a mythical treasure, a faked death and treasure hunters. Indeed, "Indiana Shawn & The Temple of the Kinda Crappy Rusty Old Sword" was a clever and compelling welcome back for our boys.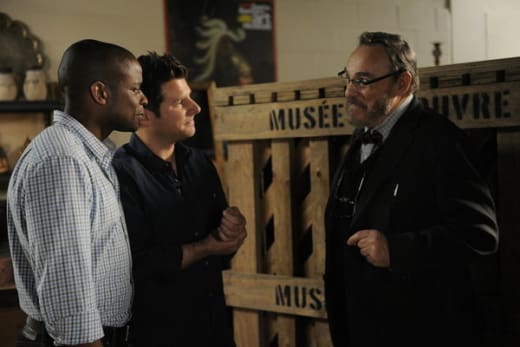 It looks like Gus decided to confront Shawn about the ring he found at the end of "Neil Simon's Lovers Retreat." Lucky for Gus, Shawn really wasn't as serious about proposing just yet, but he was quick to promise that when he finally did pop that question, Gus would be right there beside him.
I like how Shawn chose to designate it as his "emergency" ring. No proposal should be an emergency! That said, would we expect anything else from Shawn? Responding to his feelings in an emergency situation seems to be his strong suit.
At least we figured out where he got the ring from: his grandma. That's really sweet!
And then there's Despereaux. Of course that's who Shawn would call when the occasion required art expertise, or at least expertise in stolen good recovery. Or perhaps just expertise in being awesome?
I can't believe he made them patsies... again! In a lot of ways, faking his death like that made Shawn and Gus suckers. I'm really sad, though. You almost can't bring Despereaux back if everyone thinks he's dead. Then again, I very much want Shawn and Gus to figure out that they really did have the core collection artwork at their fingertips. That was a pretty epic coverup. Did he simply Windex that painting down? Who would have thought?
How about Shawn's lack of an ability to deal with death? He was seriously in denial about Despereaux. While it made complete sense given that he was right and Despereaux was very much alive, his wildly inappropriate antics at the faux-funeral were enough to make you cringe in between outburst of laughter.
Other highlights from the episode:
Shawn in the Indiana Jones gear had to be the highlight of this episode. He was so handsome!
Shawn and Gus getting into a physical altercation.
Shawn hiding the dagger in his pants.
Lassiter's complete lack of sensitivity.
the flashback to the loss of Lizardy.
the subtle references to Indiana Jones, i.e. the use of maps when the boys were traveling.
Welcome back, Psych!
So, do you think Despereaux has a chance of appearing again? Do you think Shawn and Gus will ever learn how close they really were to that treasure?
C. Charles is a TV Fanatic Staff Writer. Follow her on Twitter.