2 Broke Girls Review: Spring Broken
Jim Garner at .
While Sophie and Oleg's continued one-night stand offered some comedic relief on 2 Broke Girls this week, "And the Spring Break" was not up to par for the series. It felt like a script written by the intern who won a Submit Your Episode contest.
I had to think on it for a while before I put my finger on exactly what bugged the crap out of me about title. It was the premise of Caroline thinking that she and Max should take time off for Spring Break.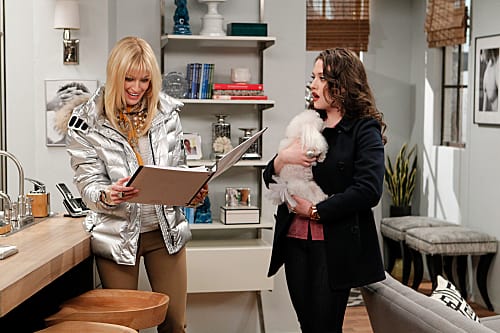 I don't know anyone who's not in school (or working for a school) who takes time off in March or April for this reason. All non-school types simply refer to this as a "vacation," even if we happy to run into those doing keg stands on the beach.
It's not as if the Spring Break aspect was even needed, either. Caroline could have shared hr same story regardless of what they called their trip. I certainly would have believed a "sugar daddy" offering her a real vacation over a real spring break. If that guy was looking for someone on spring break, he would have been closer to the sand and water.
This complaint aside, the message Max got across with Ashley Caroline was well delivered. I knew which she was going to choose, but it was pretty cool watching Max be the voice of reason this time around. And of course typing in the beer-batter-maple-bacon cupcakes didn't hurt one bit, either.
Overall, I wouldn't call this one of my favorite episodes. While it did have a few funny 2 Broke Girls quotes, most of the quips felt flat and were overused. What do you think? Am I expecting more from the sitcom than I should or is the fact we are 19 episodes in and the girls haven't even broken $1,000 a clear sign of some shortfalls?
Current Total: $775.
Jim G. is a TV Fanatic Staff Writer. Follow him on Twitter.