NCIS: Los Angeles Review: Finding their Dragon

Carla Day at .
This season of NCIS: Los Angeles has spent a lot of time focused on the agent's lives. We opened the season delving into both Callen and Hetty's past, then we examined Sam's undercover role in the Sudan, and just before this last hiatus, we found out what happened to Kensi's father.
This week's  "The Dragon and the Fairy," meanwhile, was back to business as usual with a NCIS case involving a terrorist plot against the Vietnamese Consulate. The lack of personal connection and attachment to the case gave the episode more of a procedural feel than normal. It was odd that there was no ramification from Kensi being looked at for a series of murders or any sign of Granger.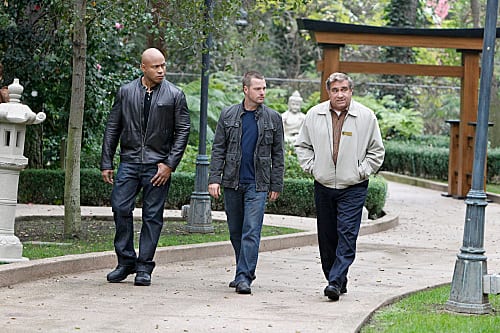 That's not to say it was a bad episode, it just didn't have the same emotional pull that we have seen often throughout this season. Instead of focusing on a member of the NCIS boathouse crew, we were to care about the immigrants that had been brought into the United States and been basically enslaved by their employers.
I found the intertwining of the conspiracy case and the human trafficking to be a little difficult to follow at times due to the way it played out. Though it did help that the bad guys ended up being the same for both.
The resolution ended in a odd twist. A good twist is one that you don't see coming, makes sense and has been established throughout the episode. Unfortunately, both twists came out of nowhere and weren't all that exciting.
The wife, Yen, was supportive of the democracy movement in Vietnam, but was using forced labor in her shop to support the cause. The terrorist threat appeared to be coming from the democracy movement, but really it was planned by Yen's husband. He was trying to bring them down by setting the group up to take the blame for the bombing. Those two really must not have liked each other, especially since he ended up killing her. In the end, they paid for their sins with their lives.
Their deaths lead to their workers being freed. In particular, Tuan, whose shooting in front of the embassy brought the situation to the attention of NCIS in the first place. His reunion with his mother, who had been abused as Yen's household worker, was touching. But the next twist seemed to come out of nowhere.
James Cleary is Mai's father. What? Tuan did carry Cleary's name around for three years, so I guess that creates the circle. That reunion seemed a bit off. At least, Mai and Tuan now have a safe home to live in.
We have been spoiled this season with cases that have a lot on the line, whether it be personally for the NCIS agents, for our nation, or another country. In comparison, this episode fell a little flat. Well, except for the basketball scenes. Those were a riot to watch, especially when Nell nailed the long shot. Who would have thought she could play basketball? The cohesiveness of the boathouse crew and their weekly interactions is always a highlight.
Next week's episode is titled "Vengence" and it holds the promise of a return to an action-packed, gripping episode.
Carla Day is a staff writer for TV Fanatic. Follow her on Twitter and on Google+.