One Tree Hill Review: Thanks But No Thanks, Dad

Dan Forcella at .
There were sexy boots, incorrect dates of death, fatherhood offers turned down, an Air Force discharge, and a possible stolen baby. Yeah, every breath did in fact seemed like a bomb during the hour of One Tree Hill that was "Every Breath Is A Bomb."
Sexy Boots
As I mentioned last week, it's completely awesome that Haley and Dan Scott are teaming up to find Nathan. I only wish that a single other person would care about Nathan at this point. He has been missing for quite a while. If the rest of these characters just don't care about him, that's fine, but at least make note of that. I understand they all have chaotic things going on in their lives as well, but your good friend is either kidnapped or dead. You should care.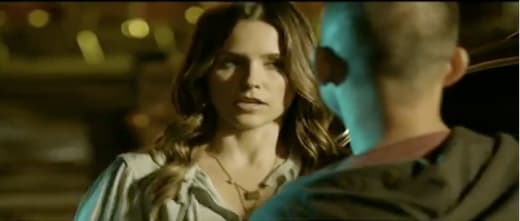 Let's get back to the sexy boots. I love that Haley came up with this plan, and am just glad for her sake that she figured out a way to get it done without touching that disgusting drug dealer.  Well, until she punched him the face.  Team Scott is getting somewhere with this, but I still wish Lucas was here to help them with this.
Leave it to Dan Scott to take a shot at Deb for being slutty in between somber moments about Nathan being captured and aggressive threats to a drug dealer.  You have to get your shots in when you can, even if nobody is there to hear them.
Incorrect Date of Death
I enjoyed Skills helping to get Mouth back in shape, that Mouth decided to take it seriously, and the trip down memory lane it led us all to, but I take issue with the attention to detail regarding Jimmy Edwards's death.
Jimmy's grave said January 23, 2006.  Correct me if I'm wrong, but the series began in September of 2003, and the main cast was all in the junior class.  Since One Tree Hill decided to do two seasons per year of passed time, the third season - which is when Jimmy died - would have been the second year of Tree Hill time.  If the day in question was in January, it would have been 2005.  It's not a big deal, but I feel like OTH messes little things like this up more often than they should.
Speaking of Jimmy Edwards, he has basically received just as much recognition during this final season as Lucas Scott.
Fatherhood Offer Turned Down
Maybe it is simply because of how cute Pierce Gagnon is, but this Clay and Logan story continues to get better and better each and every week.  The kid is as cute as they come.  Whether it was his surprise when Clay swore, his excitement when talking about wanting his dad to be a superhero or a secret agent, or his sadness when mentioning he just wanted his father to come home, the kid just kept pulling at the old heart strings.
Then it happened.  Clay mustered up the courage to channel Lord Vader, and tell Logan that he was in fact the kid's father, and he gets shot down.  As he simply said no, turned around, and walked out the door, I was left with nothing but shock and awe.  I had not had a bigger pit in my stomach since Kelly Taylor chose herself over Brandon and Dylan.  While I assume Logan will change his mind, it was still a difficult pill to swallow.
Air Force Discharge
Thanks to Chuck it wasn't dishonorable, but Chase has been let go from the Air Force.  Honestly, I'm glad.  When One Tree Hill ends in four episodes, would you rather imagine Chase off serving our country?  Or being the father figure for good old Chuck Scolnick?  I choose the latter every time.
It wasn't easy though.  It took a pep talk from Chase to Chuck's mom, a pep talk from Chris Keller to Chuck, and a lot of courage from the one they call Kid Keller to turn in his father and save his friend Chase.  I don't know about any of you, but when Chuck gave his speech in front of the other officers, my eyes looked way too similar to Chase's.  My imaginary allergies definitely started to act up in that moment.
Possible Stolen Baby
It couldn't all be good, right?  We still had to suffer through this horrible Xavier plot.  Brooke continuing to act crazy and worried about this guy that attacked her is basically the exact same thing that happened seasons ago.  Add to that the fact that Xavier going into that house was so obviously not a break in, and I just couldn't help but shake my head at Brooke and Julian all night.
Hopefully things will take a turn for the more interesting, as it seems we are now dealing with a stolen baby.  Will two kidnappings be too much to handle?  Does it make sense to open up this bag of worms with only four episodes remaining in the series?  I only hope that we don't have to watch sad Brooke for the rest of One Tree Hill as we know it.
What did you all think of "Every Breath Is a Bomb?"  Did it take your breath away?  Did it make you excited for the final four episodes?  Or are you sad that One Tree Hill is almost over?  Check out some of the best lines of the night in our One Tree Hill quotes section, and then sound off in the comments!
Dan Forcella is a TV Fanatic Staff Writer. Follow him on Twitter.