2 Broke Girls Review: Law & Order

Carla Day at .
This week on 2 Broke Girls, the continuously broke Max and Caroline took another detour in their cupcake business plan due to Caroline's father. The saga of her loving, but criminal father continues to hang over Caroline.
"And the Drug Money" was a perfect set-up to get Caroline to participate in the drug trial with Max, as well as, for some fun Law & Order jokes. Max has some unique obsessions that create for some funny jokes.
The downside of the drug trial and my biggest complaint with the show in general -- the excessive (and unnecessary) use of bodily function jokes. Poop jokes aren't funny! Well, most of the time anyway.  I'd rather see more hilarious banter between the characters.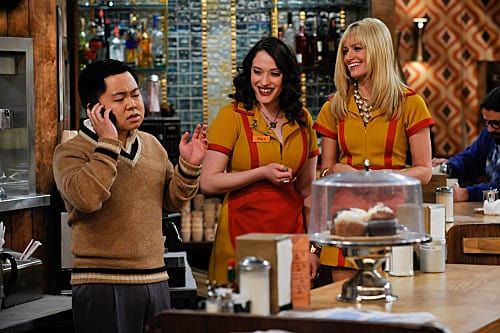 Yet, I come back and watch week after week, because I love the relationship between Max and Caroline. They are unexpected friends, who have shown they will go above and beyond for each other.
Caroline sold her jewelry for Max's dream oven, and now Max gave her drug trial money, plus $100 of cupcake money to help Caroline. That's when the show is at its best, when it is about the relationships.
The drug trial administrator reminded me of those annoying drug commercials when he listed all the potential side effects. Wow. How bad must the initial illness symptoms be in order for someone to risk and possibly deal with all those side effects. Caroline was a trooper to go through with the test.
Just when I thought the girls were all clear from the drug trial, Caroline got TS ... tongue swelling. Compared to their roommate's side effects, TS is nothing. Of course, it provided a touching moment for Leo to come to their aid and do the right thing in Law & Order style.
At this rate, Max and Caroline will be 50 years old when they finally get their own cupcake store. If it doesn't take that long, will the cupcake craze even still be strong? Perhaps, they should look into doing a cupcake vending machine, since that seems to be the hottest, new thing. How much does one of those cost? Probably more than what they have....

Current total: $675
Check out TV Fanatic's 2 Broke Girls quotes page for more funny lines from this and previous episodes, but here were a few particularly good ones from Monday night:

Max: Are you sure you didn't represent the woman who ate her child?
Leo: I've never represented anyone who ate their child ... on 'Law & Order." | permalink
Max: Yes, I'm her registered emotional companion.
Leo: Well, this is a legal proceeding and that's a highly unusual request.
Caroline: But not improbable. We googled it.
Max: Yeah, she's allowed to have an emotional companion as long as both attorneys agree.
Leo: Well, I graduated top of my class at Harvard. But, since you googled it, I'll try to make that happen. | permalink
Carla Day is a staff writer for TV Fanatic. Follow her on Twitter and on Google+.