"The Medal of Mary" may the best In Plain Sight installment of the series. Did I say that about last week's episode?  Possibly, but that's because this entire final season has been phenomenal.
So when Mary slapped the cuffs on dear old dad and dragged him down to the FBI, you'd figure that would score her some points or at least earn a little respect. Well, no so fast. Agent O'Connor still had it out for her. 
That guy's just as distrustful of the world as Mary, only he's more of a weasel about it. I couldn't believe it when he made cracks about her daughter. I was surprised Mary didn't punch him for it. I know I wanted to see her do it.
Was Scott really dead? I suppose we won't know for certain until they find a body but it sounded pretty real. If it's true that may just send Brandi right over the edge.
I loved that Mary knew that her father was headed to kill Sully because it was what she would do if he'd gone after Norah. Yup. No doubt she'd hunt the bastard down and kill him.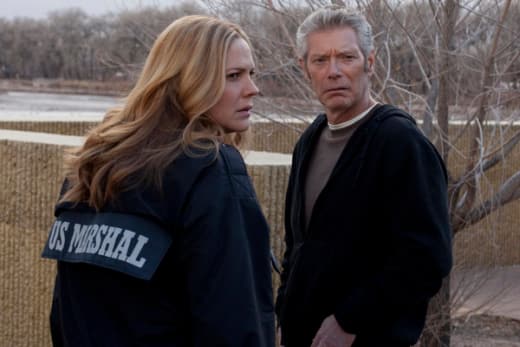 Speaking of bastards, that's the only word I could come up with to describe manipulative James Wiley Shannon. I know he said he left to protect his family, only to what? Go off and start another family and repeat the process all over again. 
And when he left Mary he left a seven year old child to take care of her alcoholic mother and baby sister. Even now, she could never be certain if her father's seemingly heartfelt words were the truth or just another con. It's no wonder Mary feels responsible for the world but is completely distrustful of it when neither of her parents could ever be counted on. 
One small complaint…would James really have that prescription under his real name? He's a known fugitive. You'd figure he'd use an alias for things like that.
Finally we get to Marshall, the man Mary called in the wee hours of the morning to say she'd just arrested her father. The man who got out of bed at 4am to make sure she was OK. 
Marshall's father was right. When you're leaving the bed of one woman to run to another at 4am, that's something to think about. 
Marshall's the one person who was able to tell Mary the truth she needed to hear. She shouldn't allow the damage her father inflicted on her be passed down to Norah. Her mistrust of the world will mess up that child. In one of the many great In Plain Sight quotes, Marshall told Mary…
 Don't let Norah lose her father just because once upon a time you lost yours. | permalink
I was proud of Marshall for saying it and happy that Mary seemed to listen.
So is Abigail truly the girl for Marshall or just the girl he thinks he should be with? Was it a sign that the wedding ring didn't fit? 
With only two episodes left I'm already lamenting the end of this amazing show. Thankfully next week will once again give us another entertaining hour of In Plain Sight.



C. Orlando is a TV Fanatic Staff Writer. Follow her on Twitter.