Every once and awhile, New Girl runs an episode that is preceded with a viewer discretion warning. "Kids" was one of those, but I'm not really sure why.
Unless babies aren't fit for viewers after 9 p.m. - because there were a lot of babies this week: Jess watched Russell's daughter Sarah, CeCe suspected she might be pregnant with Schmidt's child, Nick was dating an 18-year old, Winston had to babysit his boss and Jess is sort of a kid compared to her new boyfriend.
But after all that, the only characters that really made any progress were Schmidt and CeCe.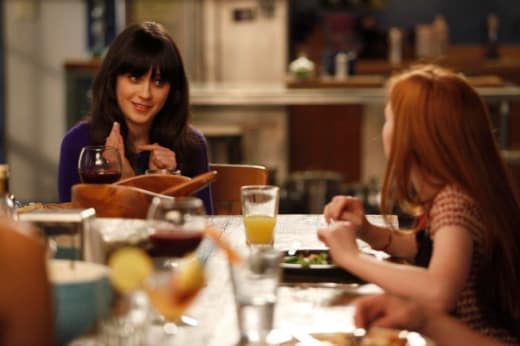 On the surface, it seems like Schmidt and CeCe are running the sitcom relationship playbook: start secret romance, secret is exposed, awkward stage, discover true feelings for each other and then those feelings are complicated by something like, I don't know, a baby.
In spite of this, Schmidt and CeCe's relationship is only slightly tarnished. Their quirks keep their romance from feeling completely clichéd, and it's surprisingly the emotional heart of New Girl.
Schmidt took time between his sassy one-liners this week to tell CeCe some really sweet things, like he would support her no matter what. Greenfield plays heartfelt and goofy effortlessly (skywriting "Marry Me"!), but Hannah Simone did the real heavy lifting in "Kids." She swerved between distraught, overjoyed and saddened throughout the episode without ever feeling fake or forced.
To relive some of Schmidt's great lines, visit the New Girl quotes page. 
The bottom line is Schmidt and CeCe clearly care for each other, but what's not clear is where their relationship is going. Do you guys think they'll stay together? Are they New Girl's equivalent of How I Met Your Mother's Marshall and Lily? Or will something come between them?
Now, onto the other babies this week. "Kids" was the second time New Girl has featured one of Jess' students, and it's striking that a show filled with such childish characters is so bad at portraying actual children. Sarah is merely a plot device for Jess and Russell and mouthpiece for jokes that fall flat. 
Sarah's infatuation with Nick was a little funny since it commented on his recent trend of dating girls that are much too young for him. Nick's latest lady was 18-year-old Chloe who Nick kept asserting was mature for her age. She was the most well behaved person at the loft and that nicely highlighted the gang's, and Nick's in particular, ongoing struggle with immaturity.
Winston, however, was left out of the loft's shenanigans as he was babysitting his new boss, Joe. As I mentioned last week, I was excited for Winston to have a new environment and characters to play off of, but this episode makes poor use of it. The storyline with Joe is nonsensical and not in the good, totally absurd New Girl fashion, but rather in the poorly thought out, poorly written kind of way. Don't worry Winston, your day will come!
Stray Observations
I don't usually say "aww" while watching New Girl, but I did when I saw Schmidt's skywriting.
New Girl has established itself as the queen of flashbacks with break dancing baby Schmidt. It wasn't as funny as some of the other ones we've seen, but it cements the fact that pretty much any line could be a lead in to a flashback.
I would love a montage of Schmidt saying words in different accents. "Poppacorno" was just the tip of the iceberg.