GCB Season Finale Review: Liplocks and Revelations
Nick McHatton at .
The biggest "Revelation" about tonight's GCB is all of the revelations that went down on the seaso one finale.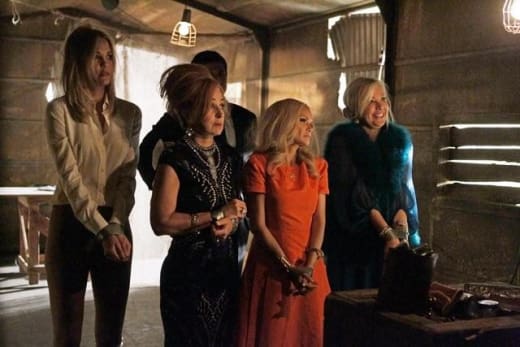 There's a lot to get through, but let's start with the biggest, the cliffhanger to the season:
The First Revelation: Pastor Tudor kissed Amanda
I'm going to miss Luke, I enjoyed his character, but I'm digging this potential pairing. I kind of wish we could have gotten a slow burn between the two of them, but when your season is only 10 episodes long some things get pushed forward a little faster than others.
Pastor Tudor has been, and still is, a bit of an enigma. He's a nice guy, but it seems like his time in Iraq has shut him down emotionally a little bit. He's very reserved when he talks about his past, and he's not forthright about volunteering things about himself. He usually brings advice from The Bible rather than personal experience.
For Amanda to break through those walls he has up is a pretty big deal, and she wants a more honest and open guy. Pastor Tudor could be just the kind of guy she's looking for.
The Second Revelation: Ripp Has a Daughter
Ripp's best asset for me has always been how many unique ways the show, and Carlene, can come up with as names for little Cockburn. So I have to give the series some credit for working on some of the outlying characters, bringing them closer into the fold. I don't really know how his incorporated Juarez daughter will fit in to GCB, or what the show has in store for her, but Ripp isn't a that big of character to the show. So anything is better than nothing for him.
Is this why he was asking Carlene to search Amanda's computer? Did he think Amanda's husband had some kind of knowledge of this?
The Third Revelation: Zach Unknowingly Sells LIWJ to Cricket
Now that Sharon finally has some power and money like the rest of the girls she certainly let it go to her head, didn't she? Especially toward Cricket. With Zach's unknowing sale to one of Cricket's subsidiaries this puts Sharon and Cricket in an interesting position, one that could be ripe with comedy.
Cricket isn't the biggest fan of Sharon, and her eye rolls alone send me into giggling fits. So if the show does get a second season more Cricket eye rolls are just perfect for me.
The Fourth Revelation: Mason Knows About Blake and Cricket's Arrangement
This is a big one. Apparently Blake's former foreman kisses and tells. Blake is easily the most interesting man on this show, and how this could all play out could offer a lot of wonderful character moments. It's obvious Blake and Cricket share a love for one another, and while it's not physical they meet each other's emotional needs.
Mason is a big wrench in their entire system because he's triggering physical and emotional responses from Cricket, and she knows it. She's doing everything she can to throw him off her trail.
Sadly, while she's away he rattles Blake's world, and Blake knows how much of an in he has with Cricket. Where do things go from here? Does Blake come out? Do they work to get rid of Mason together? Do they open up their relationship?
It's hard to say, but all of the possibilities sound amazing.
Finally tonight, I want to bring talk about more thing: what was the point of Carlene's condos? Was it all just to get Carlene down to Juarez to find out about Ripp? I guess they're Carlene's dreams, but she also dreams of being a martyr. Some dreams just don't happen.
Before asking for you opinion on tonight's GCB, here's this week's winning quote:
Carlene: What is the plural of Judas?! | permalink
Head on over to our GCB quotes page for more of our favorite's from tonight's episode and sound off: do you want to see a second season?