Parks and Recreation Review: Catch Your Dream
PaulJ at .
Knope wins! Knope wins!
It took a recount, but by 21 votes, Leslie Knope was elected to the Pawnee City Council, defeating Bobby Newport and an array of second-tier candidates on the Parks and Recreation season finale.
Of course, it should have been by 22 votes, if Jerry had only remembered what time the polls closed. Though, to be fair, Bobby voted for Leslie, because voting for yourself is illegal.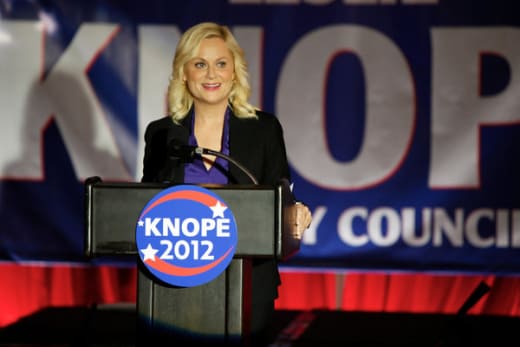 NBC is expected to renew Parks and Recreation today, for at least 13 episodes if not a full season, which would be great -- more of these people is always a good thing. And this episode caps off a strong season, with Leslie having her dreams come true, while setting things up for next year.
Showrunner Michael Schur has talked in interviews about shooting two endings, one where Leslie wins and one where she loses. It doesn't sound like they were ever that close to going with the second, though, and that's the right call. Parks and Rec is fundamentally a sweet, kind show, without descending into sappiness. After a rough start, the sitcom found its footing when it started treating Leslie with more respect, and having her win just feels like the right call and the proper culmination of where the show's been heading since the middle of season 1.
Among the highlights:
It was touching to see Leslie tear up in the voting booth as she voted for herself, and the scene was perfectly undercut by Bobby in the next booth, needing Leslie's help to vote.
Lots of emotional scenes, besides the voting one: Ron's pep talk to Leslie in the city council room, Leslie telling Ben to go to D.C., Ben telling Leslie he never wrote a concession speech for her.
While I'm happy with where they left most of the characters - Leslie winning, Ben going to D.C., Andy figuring out what he wants to do with his life, Ron turning down the assistant city manager position - I can only hope that Ann and Tom getting back together won't happen. Drunk Ann Perkins amuses me, though.
I will say that the stakes of Ben moving to D.C. were never that high for me. It's only for six months, we'll hopefully get episodes of Leslie visiting the Capitol, stalking Joe Biden, etc.
I've been humming "Catch Your Dream" for the better part of a week.
Visit our updated Parks and Recreation quotes section now and decide: Did the right candidate win?