It's hard to believe that "Inherit the Wind" takes place on Michelle's third day in Paradise. On the first, her husband died; the second featured his memorial; and on this one she discovered she had inherited everything, including a new subscription to Rolling Stone. That's the one part of the series so far that I find contentious.
Their grieving process, most especially Fanny's. was incredibly short. Everything came together too easily. Even imagining that just a few days before Hubbell had completely rearranged his legal affairs to include Michelle in every part of his life is borderline ridiculous. And yet... darn if I can't help absolutely loving Bunheads. I'm willing to suspend my disbelief to allow the dialog to roll and the small town antics to play out.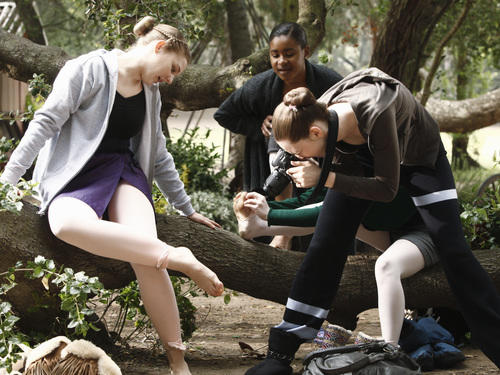 We learned a little more about the bunheads and their interactions this week. As viewers, it was easy to dislike Sasha right off the bat, but I didn't realize that her friends found her just as unappealing as we did. The most charitable of the girls, Boo, didn't want Melanie and Ginny to talk poorly about Sasha behind her back and was standing up for her, even after Sasha tried to make Boo look like a fool in front of her crush, Melanie's brother Charlie.
While that moment would be enough to damage the spirit of a less kindhearted friend, Boo still didn't want to hear Sasha talked about negatively. All she got for her altruism was yet another strike from the claws of the catlike Sasha. 
Flash forward to a scene of Sasha peering in on a conversation between Boo and her mother and we found out that the basis for her animosity toward Boo is plain jealousy. She may be the perfect specimen for the career of ballet, but she'll never have a family as loving and connected as Boo's and something inside of her wants Boo to pay for her misfortune.
The sad part of that is I'd be willing to bet Boo and her mom would welcome Sasha into their home with open arms if she'd only let her guard down for a second. I'm counting on that being a part of our bunhead journey over the season.
Meanwhile, the up and down relationship between Michelle and Fanny continued, with more of a downward spiral at the news of the inheritance. Ginny's mom, the real estate broker, tried her best to scare the crap out of Michelle about the pitfalls of owning land and merely seeing Michelle with Claire caused Fanny to want to grab moving boxes and start packing, certain that she was soon to be homeless. You can't say that she's not dramatic!
Granted, everything is happening at a frenetic pace, but Michelle admitted to the handsome stranger upon whose private road she trespassed, and whom I'm guessing we just may see again as a romantic sparring partner for her, that she hasn't had a real home, so Paradise might as well be a place to hang her hat. Among other awesome Bunhead quotes, her conversation with Grant, aka Bill, brought us this brilliant line:
I honestly didn't think there was a scenario after the 1800s where people crapped in ground behind their house and then just left it there. But apparently there is, and suddenly I'm thinkin' about it, I'm talkin' about it; I'm septic tank girl! | permalink
Amy Sherman-Palladino still has an open invitation to script my life. Anybody who can write about a septic tank and make it seem charming has most certainly found their calling in life. 
Michelle found a way to try to live in peace with Fanny, and it looks like she's going to take an interest in the ballet school. I'd imagine the two of them will continue to butt heads for the foreseeable future, but they are best when they're in collusion: drinking together, dancing together. I imagine Paradise would be a force to be reckoned with in the world of ballet if the two of them found a harmonious way to live and work as a team. The best thing Hubbell may have done for both of them is give them the gift of each other. I wonder how long it will take for them to figure that out.
Bunheads still has my attention and has captured my heart. The characters are fun, quirky and even when you want to smack them, there is still that little tug at the heart strings to keep you from wanting to boot them off the screen. Is it still living up to your expectations? Let's chat about it in the comments!
Carissa Pavlica is the managing editor and a staff writer for TV Fanatic. Follow her on Twitter.