Walt Longmire is a stoic man. This much was evident from almost the moment we met Robert Taylor's sheriff on last Sunday's Longmire premiere.
But viewers saw the character at his most vulnerable when interacting with daughter Cady, whose portrayer told me over the phone that this relationship was a major "pull" for her to take on the role.
"I love a good father/daughter relationship because I'm close to my dad," the actress said. "Walt is pretty quiet and removed, but anything he really cares about will make him seem more human on the show. Cady is that human, emotional tie for him."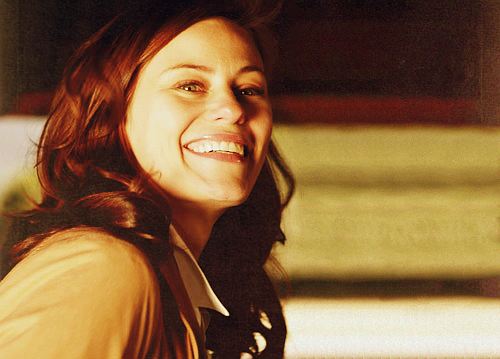 But while her father will be the through-line for a majority of Freeman's scenes, the former Smallville star and recurring Vampire Diaries player acknowledges we'll get to know Cady outside of her ties to her dad, as well.
"She does have a romance, which could be controversial," Freeman teased. "And she's a lawyer. Her professional opinion and ability to understand documents will come in handy on many cases."
Yes, Longmire will be solving one crime per episode, procedural style, but Freeman says both A&E and the show's creators are determined to take their time each week. There won't exactly be any Law & Order-like jumping from one setting to the next.
There will be some deviations from the source material, though, but author Craig Johnson was on hand for the shooting of the pilot and Freeman says he has a "beautiful back and forth relationship" with the show's creators that adds authenticity to the characters.
And, for Freeman, the fact that her character isn't a supernatural being (The Vampire Diaries) or part of a superhero's world (Smallville) was definitely another draw.
"Playing a vampire was very, very cool," she said. "And Tess Mercer grew more human as the seasons wore on, which I appreciated. But this is really different. It's slower, more natural. Being able to play so many different things is all an actor can ask for."
Well, that, and filming on location in Santa Fe, New Mexico.
"They call in the Land of Enchantment," Freeman said, adding that they sometimes drive hours just to get certain shots. "There are a helluva lot worse places to film."
Longmire airs its second episode Sunday night on A&E.
Matt Richenthal is the Editor in Chief of TV Fanatic. Follow him on Twitter and on Google+.