Everybody wants a piece of South Fork. Bobby for love. He wants to give it away to protect it. J.R. wants it for pride and John Ross simply for power and money.  "Hedging Your Bets" had everyone doing just that to assure that they'd get what they want.

Bobby and Annie.  With Bobby's pain getting worse it was about time he told Annie. Smart woman that she is, Annie beat him to it and made him see what was behind his desire to sell South Fork.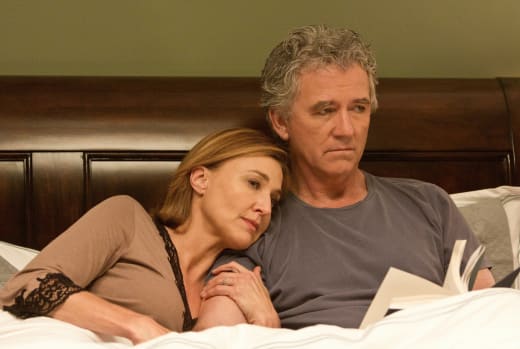 Bobby's scared.  If he died he knows John Ross will wage an all out war to get his hands on that ranch and the oil underneath it. The honest truth was that as much as he didn't want his son involved in that war, he also didn't believe that Christopher was strong enough to win and the sad part was, Christopher knew it.
But Bobby couldn't get past the handshake deal he'd already made  Any chance he'll figure out he's getting played before it's too late?
J.R.'s big reveal.  I remember the Oil Baron's Ball being a staple of the original series but not the Cattle Baron's Ball.  Either way, it turned out to be an interesting shindig as J.R. emerged from his assisted living facility to come out and party. 
As Mitch said in this Dallas quote...
I guess some people are just too damn mean to die | permalink
So it would seem.
"Watch and learn," J.R. told his son as he doddered around like he needed his walker. My guess was that he was trying to prove to Bobby that he couldn't possibly be a threat in such a weakened state.  Now we'll have to wait and see if Bobby bought it.
But I did love J.R. telling Annie that he hadn't approved of the first Mrs. Ewing. Talk about an understatement.  He despised Pam from the moment she set foot on Ewing land.  Wouldn't it be fun to have her come back?
Then it was on to meet Sue Ellen as J.R. said...
 There's somebody I've been meaning to make amends to, my entire life. | permalink
The sentiment almost seemed heartfelt. He and Sue Ellen always had a complicated love/hate relationship. They might be older but I don't think anything has changed. Sue Ellen is a smart, powerful woman but J.R. will always be her weak spot.
In too deep.  John Ross thought he had control of this game but he's in way over his head. He believed he was playing his father with Marta when Marta (or whoever she is) was playing them both. 
My question was, why did she have to drug him? John Ross was certainly willing to jump into bed with her. What on earth did she get him to do on camera that he wouldn't have done otherwise? Being that it involved ropes and goodness knows what else, I can't wait to find out.
What the Hell?!?  That's what I yelled at the screen when it became clear that Rebecca's working some sort of scam as the new Mrs. Ewing. I never saw that coming.
She's been the perfect wife. The only thing that gave me pause was when she encouraged Christopher to cancel their honeymoon to Tahiti. What woman does that?
So what is this plan she and her brother have concocted to infiltrate the Ewings and has Rebecca actually fallen for her mark?
Add that to the reveal of the real Marta Del Sol and the conspiracy theories won't stop spinning in my mind.  I may have more questions than answers but I'll definitely be tuning in next week to watch and learn.



C. Orlando is a TV Fanatic Staff Writer. Follow her on Twitter.