Jane By Design Review: It's You or Is It?

Carla Day at .
Who did Jane pick? Her best friend, Billy? Or her fashion mentor, Jeremy? Any chance that Nick was forgiven and he's the lucky man?
It took the full hour of "The Replacement" for us to find out how the fashion show cliffhanger was resolved. And, at least to my relief, Jane is still single. As I mentioned after "The End of the Line," Jane and Billy are too young to give up their incredible friendship and Jeremy is too old (and the mole, don't forget!) for Jane.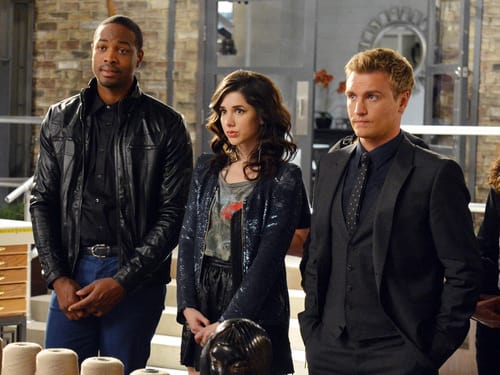 While not much changed in Jane's love life, she has pulled Ben into her ruse. Now that he knows that Jane is working at Donovan Decker, you'd think her life would be easier, but instead she has put Ben in the precarious position of lying to Rita.
Ben has given up so much already for Jane, is it too much for her to ask him to lie to Rita? Jane By Design, meanwhile, added another favorite John Hughes movie homage. The race to get Jane home and in bed before Rita made it there was reminiscent of Ferris Bueller's Day Off.
I'm not looking forward to the day when Rita finds out they all have been lying to her. She won't take it well and her relationship with Ben will most likely end there. I'd love for that confrontation to never happen. Or at least not until Jane graduates. At that point, it probably wouldn't be as detrimental to Ben and Rita's relationship.
How long will Jane stay single? Has her love quadrangle turned into a pentagon with the arrival of Gray's nephew, Eli? He was attractive and he covered for Jane with Gray. Could they be the new power couple? He appears to be more age appropriate than Jeremy, but still probably legally too old to date her. But, why not add another dimension to the secret?
Nick is such a typical teenage boy. He just doesn't know what he wants. He has been with Lulu for two months and then when Billy returns, he decides to approach Jane? Given the time jump, I guess the writers wanted us to see this encounter, but I have a difficult time believing that he would have waited so long. Will Jane forgive him? I expect that she will, but that doesn't mean they will be getting back together.
Then there's Jeremy. He was rebuffed by Jane, but he isn't quite ready to give up. I hope he remains a mentor and friend to Jane. That is an enjoyable relationship to watch play out. Though, with India's return, she is sure to stir up trouble here. Will India expose Jeremy as the real mole? Can't wait to see that!
And, lastly, there's Billy. It was disheartening to see him return and keep a distance from Jane. He clearly didn't know what to do. As much as I hated Billy responding to Jane's every need at the beginning of the season, I didn't expect him to leave her hanging either. It was painful to hear him say, "The whole racing to save Jane thing isn't really my problem anymore."
In the end, they came back together as friends. The pain was written all over his face that he truly loves her and wants more. But, for now, this is the best for both of them. Do you agree with Billy's decision to not reveal his true feelings to Jane? Do you want them together now or to wait awhile?
Carla Day is a staff writer for TV Fanatic. Follow her on Twitter and on Google+.