We know who the nominees are, and we've taken a look at some of the biggest snubs, but now it's your turn to weigh in on the 2012 Emmy Awards TV Fanatics! Staff writer Dan Forcella is here to give you quick refresher on each of the major categories, and then turn it over to you all to let us know who should win come September 23.
Other categories previewed so far: Lead Actress Comedy, Lead Actor Comedy, Supporting Actress Comedy, Supporting Actor Comedy, Comedy Series.
-------------------
One name had been announced as a nominee for Outstanding Lead Actress in a Drama Series for the past eight years in a row. Only Angela Lansbury has been nominated more times for the award, and she won the thing back in 2006, but this time around Mariska Hargitay's name was not on the list. She was never going to be a favorite mind you, but it was still weird not to hear her name as one of the six hopefuls in 2012.
Like I predicted in June, the Academy also fell out of love with The Killing, and so Mireille Enos joined Hargitay and Connie Britton as last year's contenders to miss the cut. A couple of newbies took their respective places, and it is in fact one of those rookies who seems to have a huge lead in the polls at this point.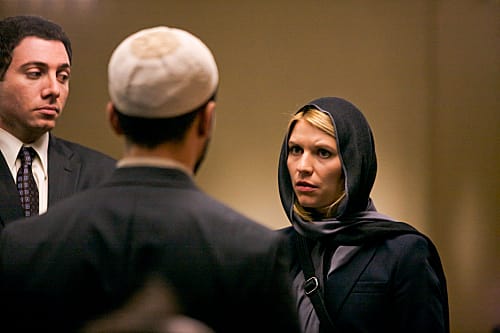 Last year she returned to TV for the first time since her Emmy-winning performance as a 15 year old on My So Called Life to make the tv movie Temple Grandin, and Claire Danes won again for that. This season she did some of her best work to date, exciting us all with her portrayal of psychotic CIA agent Carrie Mathison in Homeland.
Danes is already reaping the individual accolades, winning at the Critics Choice Awards, the Golden Globes, the PAAFTJ Awards, and this past weekend's Television Critics Association Awards. The writing is certainly on the wall for Danes to take home the gold come September.
Let us not forget, though, that Juliana Magulies IS the defending champion and that the Emmys love to get lazy and give the trophy to the incumbent. I'm not saying that Margulies might not deserve it over Danes - I only watched a bit of The Good Wife this season - but it's hard to imagine she packed enough punch.
As likely as it is to end up Danes or Margulies, I still would'nt be surprised to see Glenn Close or Michelle Dockery win either. Close won twice for her flashy role on Damages in 2008 and 2009, and she may have only failed to top Margulies last year because her show didn't air. Given its number of nominations in all of the drama categories, I wouldn't be surprised at any Downton Abbey victories, including one here by Dockery.
It's fairly safe to say that Kathy Bates and Elisabeth Moss are on the outside looking in. The former's show was cancelled and we all assume this is a name nomination anyway. Apparently no actor from Mad Men can win at the Emmys, so the latter doesn't seem to have much of a shot either.
Who did enough to win the prize? And who just didn't have the stuff? It's your turn to let us know who you think should win this year's Emmy for Outstanding Lead Actress in a Drama Series?
Vote in the poll below and then sound off in the comments!
Dan Forcella is a TV Fanatic Staff Writer. Follow him on Twitter.