So this is what Cassie Steele (Abby) was talking about when she said there would be plenty of sex coming in The L.A. Complex! 
In "Be a Man," Abby landed herself right in the middle of some trouble as she inserted herself in the relationship between Brandon and Laura, the two leads of Saying Grace.
Let's start backwards with this threesome. While I'm not a big fan of the decisions Abby makes, I can completely respect how she is written. Abby is a person who doesn't take the time to think about the consequences of her actions, but at least she's consistent. As usual, her boundary pushing will get her into plenty of trouble and probably off the series, but anyone could see that one coming a mile away.
I'll be much happier if the drama goes in a different direction with it.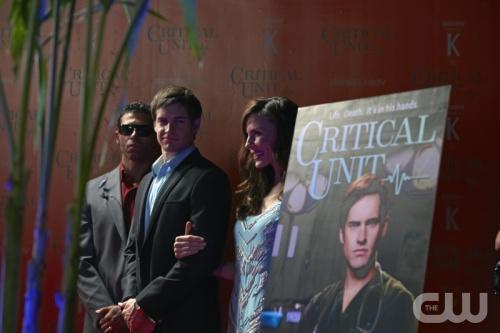 We also get a closer look at Kaldrick's father, Walter, this week. Unsurprisingly, Kal didn't have the best childhood and his dad was incarcerated for the better part of it. 
The flashback of Kal running away from some bullies and his father, rather than saving him, telling him to "Be a man" (hence the title of the episode) was especially noteworthy. It's clear much of Kal's thinking comes from his father's idea of toughness and manhood, which is probably why despite Kal's adverse reaction to his father, he runs to him when things get rough; his parent knows why Kal is the way he is.
At one point in the episode, Kaldrick's father Walter said, "I don't expect you to forgive me. I just want a chance to show you I can change." I'm sure this is exactly the sentiment Kal would love to express to Tariq, so it more than likely struck a chord. 
One more reason I love this series is that it doesn't give us all the answers all the time. When the young boy comes in and starts rapping Kal's lyrics, Kal and his father share a look over the gay slurs. Is his father aware he's gay? Or does he just know Kal is not nearly as tough as the image he tries to portray?
We see this with Raquel's pregnancy as well. Last week she doubled over and nearly passed out from the pain. Is she still pregnant? Is she losing the baby? We haven't gotten any direct answers unless I'm totally missing something obvious here. As is typical, Raquel's character arc is one of the best of the week. Raquel's experience on Cactabear 2 is embarrassing and another brutal hit to her ego, as all she wants to do is commiserate over her slump with a director who she thinks is going through the same thing.
By the time her and Connor meet up later in the episode, it's high time everything unsaid is laid out on the table. Both are feeling tested and tempted and only have the other to take it out on. Connor is called out about his insecurities while Raquel is told just how desperate she seems with her acting career. After each pushes the other to the brink, Connor leaves Raquel sobbing and heads to his premiere with Jennifer Bell, whose sexual advances he turned down earlier. 
One of the disappointing parts of this episode is that these two actually really enjoy one another, but they both have it right. They're extremely codependent, extremely lonely and, even though they may actually love one another, they have a lot of individual mistakes to correct before they try and be in a relationship.
The walls are closing in on Connor, who is being questioned by an insurance agent about his house fire, and Raquel's last few minutes in the episode are especially devastating, especially if she doesn't make it, which I'm praying doesn't happen because she's one of my favorites! I'm going to predict she ends up in the hospital and Connor claims to be next of kin and finds out about the baby, who didn't make it past the car crash. But I am also a huge fan of The Young and the Restless, so maybe my soap opera background is too easy of a prediction.
This leaves us with the four characters I least cared about this week: Nick, Sabrina, Beth and Simon. Nick, I'm sorry Abby broke up with you and I feel for you. I'm glad you didn't really snort that coke. Sabrina, you are becoming less likable since I don't like the degree to which you're taking this whole job competition. 
And Beth? It's clear you're not eating enough, and seriously, I know you don't want to change who you are for Los Angeles, but couldn't you at least learn to keep your mouth shut at opportune times? Simon, keep doing what you're doing. 
Cross your fingers for Raquel to make it out of this one alive and for Abby not to contract any STDs after this week's episode!