It's hard to truly judge "Once Upon a Blog" using our usual Awkward tool set because the nature of do over - or what-if episodes-  tend to just be fun, neatly packaged episodes that are, in the end, mostly meaningless.
However, we'll still do some exploration into each scenario to see if we can find some sort of theme throughout. Ready to jump in?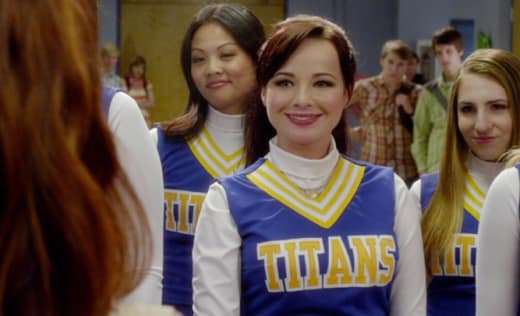 Matty's do over is easily the biggest "anti-Jenna" of the three just because it really didn't fit Jenna at all. While it was fun to watch her decide to tell him up front that she wasn't cool with sneaking around with him, the minute Jenna let the popularity association of being near Matty go to her head she paid for her Bangladeshi Boobies and became a part of the Plastics... I mean Sadie posse.
The biggest theme we can take away from Matty's do over is Jenna's insecurities. Jenna could easily be swept up in her newfound popularity from making her blog public and her potential decision to choose Matty, and she could end up being more like Sadie than like the Jenna Matty fell in love with. The same could easily be said for Jake, too.
Jake's what-if scenario wasn't so much focused on Jenna, but Jenna's history. Jenna's family tree causes a lot of insecurity for her, for Lacey and for Jenna's choices. So for Jenna to become pregnant, considering the recent turbulence between Kevin and Lacey, it's not hard to imagine Jenna having anxieties about choosing, about safe sex, about clinginess and about history repeating itself.
The final scenario was probably the cutest and more realistic when compared to the other two. That even if Jenna didn't go to summer camp, or if she made a decision to focus on school, in the end, she would cross paths with Matty and Jake – and both of them will be sweet and kind to her.
From there they'll either be interested in Jenna or take their bromance to the next level with a true romance.
It's too bad Awkward didn't head off with that what-if scenario for a bit...
Other thoughts:
I was hoping Lacey would denounce Jenna's newfound mean girl attitude in Matty's what-if.
Jake's excessive hairiness made the Twilight spoof worth it.
Is Jake's lack of sexual chemistry what-if with Jenna a sign of things to come?
We're at that dreaded time Awkward fans. Yes, next week is the season finale. What are you hoping to see next week?
Be sure to head over to our Awkward quotes page to read and vote on some of our favorite what-if liners!
Now, Jenna has a big decision next week. If you were Jenna who would you choose?