Bones Season 8 Spoilers: Pelant's Fate, An Explosive Reunion, New Faces & More!

Steve Marsi at . Comments
What will be the fate of technical and criminal mastermind Christopher Pelant on Bones?
The villain portrayed by Andrew Leeds and introduced last season will play a significant role throughout Season 8 as well, according to executive producer Stephen Nathan and creator Hart Hanson.
While a major twist at the end of the September 17 premiere will temporarily conclude the Pelant storyline that turned Brennan into a fugitive from justice, it will raise additional questions as well.
"Pelant is not going away," Nathan said, adding that he will be around "All season... We love this guy. He's the most interesting multiple murderer we've ever had on the show. He's going to color Season 8 a bit."
"No one's going to be able to rest easy in Season 8."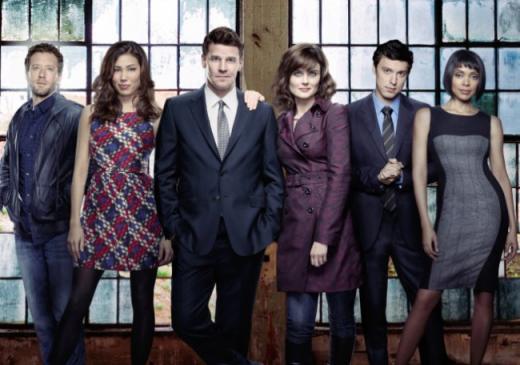 How do you suppose he'll be kept around, and what methods will he use to keep the Jeffersonian team on edge? Should be interesting to watch. Nathan and Hanson also teased the following tidbits:
Of the emotional, much-anticipated Booth-Brennan reunion in the season premiere (see photos and promo), Nathan said the actors had to ask themselves "how mad is Booth at Brennan, how anxious are they to see each other, and how does this manifest in one split second? We were happy they broke furniture." 
The following week, Christine's parents face a major reality check as they delve into their three-month separation and its impact on their strained relationship going forward.
Cam's new BF isn't totally new, but "someone fans will recognize" ... Booth's mom will appear in the second half of the 2012-13 season ... We may also meet a Hodgins sibling.
Emily Deschanel and David Boreanaz are looking to extend their contracts with the show through at least Season 9 and possibly beyond, so it looks like there's no end in sight!
The show's 150th episode will be one unlike any other, told from the victim's point of view and giving the audience a never-before-seen outsider's view of the Bones team.
Finally, the obligatory B-squared tease. Asked if there's a Booth-Brennan wedding in the works, Nathan laughed, "There might be ... it's only Season 8. We're just beginning."
Steve Marsi is the Managing Editor of TV Fanatic. Follow him on Google+ or email him here.