Amid the whistles and shots of train cars, sometimes it's hard to remember that Hell on Wheels is all about building a railroad.
I understand it's the backdrop of the show and some episodes the tracks seem to have been built farther than before, but so much is going on with the characters themselves, you wonder when that work gets done.
"Scabs" settled back into dealing with the construction and the inevitable problems that continuously surround it.
Not only is there a competition with other railway lines on trying to get to the west first, but the Sioux aren't pleased people are messing on their land, and the workers themselves have got demands and issues to be dealt with before even striking pins or laying tracks.
To be honest, it's a wonder that the project was ever accomplished at all.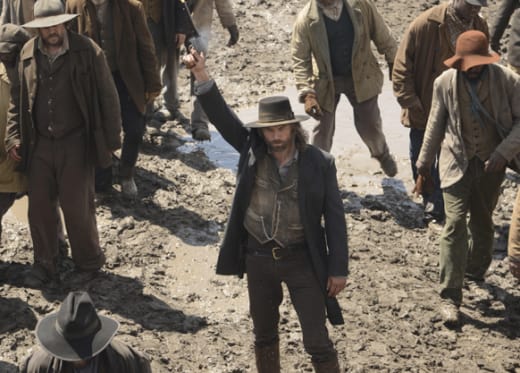 In a way, the episode really dealt with the politics of the situation and the necessary tactics to get workers back to doing their job.
Not surprisingly, Durant and Lily couldn't really do anything to fix the problem, leaving it all up to Bohannon. It's a good thing he's a man of the people, or at least knows how to push people in the right direction even if they don't realize it.
He's a natural born leader and his skill with a gun adds credence to his barking orders. Truly, Bohannon continues to show how great of a character he is, no matter what the situation. His scenes are always fantastic.
But for the most part, watching the workers go on strike wasn't the most exciting. Although, the fight sequence with the new and original workers was a good scene. There were some great overhead shots of all the people in the town going at each other and a true sense of just how many people are involved in the location. We may only focus on a few characters, but there are a multitude of those working on the railroad. I can only imagine how long it took to get that scene right.
And while Bohannon may have been crafty in getting everything back together, and in a way preparing future episodes for war (The Swede loves talking about the upcoming war), it was Ferguson's journey of the episode that was a bit more interesting.
I still may laugh at some of the exchanges between him and Eva, but I was a bit surprised that by the end of the episode it was Mr. Toole who came to her side. The guy may be obnoxious and the infidelity could be enough to upset anyone, but he still has the decency to want to help her through it.
Which is interesting because Ferguson always talks a big game, walks around like he's the man, but in the end, he was the one left lying in the mud. No one seems to really respect him, and the one woman who loved him, he shunned her away. In a way, he wants to be like Bohannon, but his actions just aren't getting him there.
Am I surprised that a baby was thrown into the mix? No. I guess I'm just curious if the show will handle it as a realistic depiction of adding a child to the hardship, or just using the kid as fodder for drama.
Overall "Scabs" was a fine episode, but after such a shocking one last week, it wasn't nearly as exciting or memorable. That said, I've got no doubt that things will pick right up again and Hell on Wheels will be right back on track.
Sean McKenna was a TV Fanatic Staff Writer. He retired in May of 2017. Follow him on Twitter.