The holidays tend to be a stressful time, but this episode of Happy Endings Season 3 made thing all the more merry! In "No-Ho-Ho," the group found out that Jane's been lying about her birthday all of these years.
Thanks to a very tolerant waiter who pointed out Jane's ID was a fake, she had to reveal one of her darkest secrets. Yes, Jane is a Christmas baby.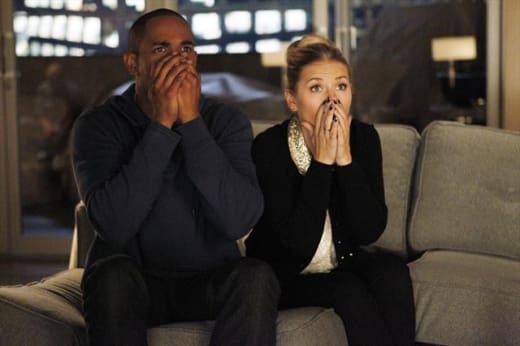 I completely understand how a little kid wouldn't want to be born on December 25. You only get half the gifts and your friends are never around to celebrate! My niece was born two days before Christmas and for years she had a separate party over the summer with all of her pals. Even though Jane got momentarily sad when everyone tried to celebrate her birthday on Christmas and pretty much failed, she had an awakening.
Across town, there was a group of similar babies who all celebrated together while everyone else was off making a big deal of Jesus's birthday. Jane was initially thrilled to be joining them until she realized that when celebrating their birthdays they also set out to ruin everyone else's holidays. Not on Jane Kerkovich Williams' watch! She busted out of there, found her hubby Brad and told him she wasn't sad anymore.
I took control of my destiny. I changed my birthday. I am Queens Boulevard. | permalink
Okay, female Vinnie Chase, I can respect the reference and delivery of that line! Especially because this was an overall amazing episode. First, it was so sweet of everyone to postpone Christmas, but haven't they learned their lesson about surprising Jane? Don't you remember what happened in The St. Valentine's Day Maxssacre when they all got pepper sprayed? Also, who carries pepper spray in their own house when going to make breakfast? 
Alex has a weird gift unwrapping fetish, Max is hooked on eggnog and the combination of that culminated into a terrific scene. In Alex's fit of rage over Jane not opening her gift, she accidentally stabbed Max in the back, popping a hole in his camelback full of eggnog. Max's addiction to eggnog had me doubled over in laughter, especially when they showed him trying to resist it in the store only to get one drop of the sweet and creamy before going crazy!
It was nice to see Pete again. Is Dave really the gift whisperer? Do you think that pairing Dave and Penny together for the episode had anything to do with Penny's weird secret crush on him or was it just coincidence? I still think that's a little awkward, but not as awkward as Brad's weird MILF fantasies of being swaddled after a bath. 
Did this week's Happy Endings satisfy your Christmas cravings? What do you think of Jane's big secret? Also, please let me know if you have any idea where I could buy hip-hop Santa. Happy Holidays and hit the comments!