Leverage Review: Like All Good Things...
Jim Garner at .
Just a few days ago TNT announced the end of Leverage. The proverbial silver lining tot his sad announcement?
Creator Dean Devlin saw the writing on the wall and "The Long Goodbye Job" was written to end the series just in case events went as they did. The news couldn't have come as a shock to the producer because in my interview with Devlin he stated this episode was always the way he had seen the series ending.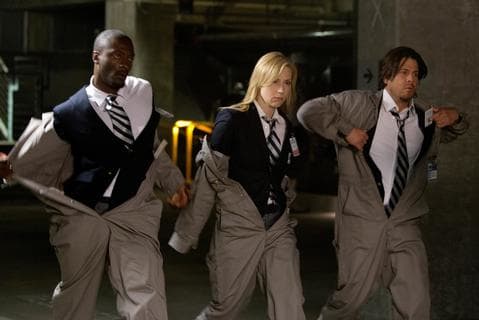 Devlin found the best way possible to pen both a series finale and keep open the possibility of a sixth season:
You wrap up Nate's story, as he was the core of the pilot and the man who brought everyone together. I've know that Parker had been evolving over the last few seasons and even more so over the last three episodes, but I would not have pegged her as the new leader. 
That said, it's obvious when you look at how much Parker has taken the lead. From last year's episode with just Hardison, Eliot and her to this year's installment with her broken leg, Parker has been point more times that we realize - and done well doing so.
My only disappointment with the finale was not finding out Sophie's real name. Sure, Nate used "Laura" when he proposed, but she fairly quickly reminded him that it wasn't her real name. Not that we will ever find out, but I still believe she really does come from royalty and that we saw a peek of it in "The King George Job."
Finally, while it is sad that TNT decided not to renew the show, maybe we will get a New Year's miracle and someone else will pick it up. Given than Devlin's Electric Entertainment produces it, I'm guessing there is a very tiny chance it could find a new network. But I'm not holding my breath. Mr. Devlin, it's been a lot of fun, I look forward to your next project. 
In conclusion, thank you for joining us here on TV Fanatic. I have loved reviewing the show for the last two-plus years. We hope you continue to come back for all the new mid-season shows starting in January. For the finale, I give it 5 super criminals who stole our heart each week. 
Jim G. is a TV Fanatic Staff Writer. Follow him on Twitter.