The Carrie Diaries Review: Welcome to New York
Leigh Raines at .
In the highly anticipated Sex and the City prequel, we meet Carrie Bradshaw as a teenager in 1984. The Carrie Diaries' pilot introduces us to Carrie and her group of friends as they navigate high school life in Castlebury, Connecticut.
It also tells the story of Carrie's ultimate love affair. No not with Mr. Big... with Manhattan!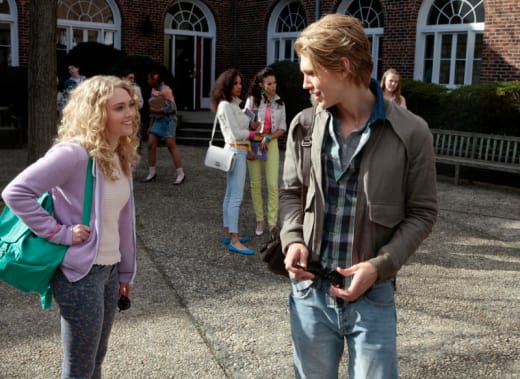 As I already told viewers in my preview of "Five Reasons You Should Watch The Carrie Diaries," don't expect any of the modern day characters just yet. This is an entirely different group of people with their own unique stories. However, that doesn't mean you won't see similar archetypes. That hottie pictured up above with young Carrie is probably one of the key reasons she will end up falling for guys like Mr. Big later in life.
Meet Sebastian Kidd. He's the new kid with the bad boy reputation. Kicked out of three private schools and drives a porsche? No problem, as long as he looks good walking in slow-mo with Wayfarers on. While everyone else is drooling and comparing rumors, Sebastian saunters right up to Carrie and says hello. Turns out they used to hang out at her swim club and shared a really steamy pool kiss.
If you've read any of my other show reviews, you know how I feel about steamy pool kisses. I'm looking at you, 90210.
Sebastian even caught Carrie when she fainted in the hallway, a sweet and very old fashioned gesture considering everything Carrie as gone through. We find out early on in the episode that Carrie's mother passed away in May. When her father approaches her at school to talk to her about an internship, she has a flashback and thinks she's about to hear about horrible news again. Mr. Bradshaw's idea for Carrie to intern in Manhattan was actually really sage. 
Carrie dreams of Manhattan. It's also a great outlet for her to get away from some of her sadness. High school isn't exactly the easiest place to cope with things. She seems to have a great support group of friends with Mouse, Maggie and Walt but they all have their own stuff to deal with. In New York City, Carrie meets Larissa. A woman who is a lot of fun, a little bit of trouble and a writer for Interview magazine. Basically she's Carrie's idol. 
Between these two worlds, the show has a lot of material with which to work. Carrie gets to explore the world of the city with new friends and new adventures while still experiencing normal teenage stuff back home. The show deals with typical young issues, falling in love, losing your virginity, makeups and breakup, figuring out your sexual orientation and just general getting to know yourself as you grow up. There's also the typically graphic and hilarious teenage vernacular on display.
It was like putting a hotdog in a keyhole. | permalink 
So will Sebastian go for Carrie or the fast girl at school, Donna? Will Carrie and her sister Dorritt be able to get along? What will happen with Mouse and Maggie's respective relationships? 
I think this show was adorable and the first episode introduced us to a lot of stuff we can explore down the road. What did you think of the series premiere of The Carrie Diaries? Hit the comments!