After all the fighting on last week's episode of 90210, the tension was still pretty thick in this on "#realness," as Naomi and Max attempted to say goodbye to their marriage when they hosted one last charity event together.
Part of this event was a celebrity football game, so naturally Naomi asked Liam to participate. Liam actually did a great job and we're pretty lucky that he didn't start a fight on the field.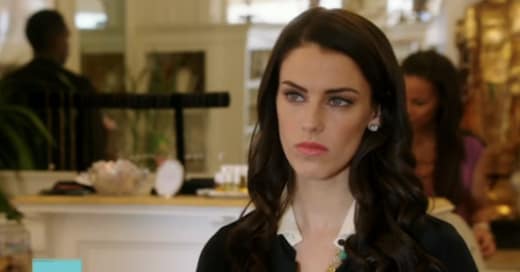 I was actually expecting some hardcore and possibly violent athleticism when Liam suggested to guest star Terrell Owens that they give the fans a real show. It's not a good thing that I automatically assumed Liam meant he wanted the game to get really physical, as opposed to meaning he wanted to show off his skill for the movie exec who was there. Liam probably would've taken the deal, even after his panic attack, until she guaranteed he would skyrocket to fame.
There are a lot of unresolved issues on this show right now, but Liam's anxiety and anger over being kidnapped probably being number-one.
I get it, I was there too. I got shot, remember? | permalink
You'd think Annie might be the one with the bigger issue since she took a bullet from that nut job but somehow she is doing just fine. And, oh yeah, her boyfriend just dropped dead last week. Is she on happy pills or something? How is Annie functioning? I simply do not get it. She's actually signing an anonymous book deal where she's being sold as the next EL James and "Fifty Shades of Grey." This is lofty yet intriguing. 
Annie didn't have all that much experience as an escort, she did it for what a few months? And didn't she only ever sleep with Patrick? How is she supposed to write a whole book out of that? Given all that we know about CW dramas, Annie should realize that nothing ever stays anonymous. Just ask Dan Humphrey. Besides, once the people who do know Annie's secret read the book, one of them is bound to slip... right?
Speaking of things that won't be kept a secret, Navid hooked up with Shane's sister! The same sister that is now likely going to be the surrogate for Teddy and Silver. I'm really glad we're seeing some sort of agreement and resolution in this whole Silver/Teddy feud because it was getting a bit tiresome. The same goes for Adrianna and Dixon's fight over her contract.
That performance was just awful, yikes! I felt bad for both Adrianna and Dixon in that moment. Maybe there's a lesson to be learned here about mixing business with pleasure. Look at Naomi and Max. She got involved in his business affairs and it sank their marriage faster than the Titanic. They thought because they were having a "mutual friendly separation" that they could have a night of sex and host one last event together? Unfortunately that's just not the way it goes.
It seems they have finally gotten their closure, however, and next week it looks like Naomi may even get a new love interest! What did you think of the latest episode of 90210? Are you worried about Liam? Will McKayla end up being the surrogate? Hit the comments!