Arrow Interview: Emily Bett Rickards Speaks on Felicity, "Special Relationship" with Oliver
Jim Halterman at .
Attention, Felicity Smoak fans: do NOT miss tonight's episode of the just-renewed Arrow, as the bespectacled IT girl actually gets out from behind the desk and assists an injured Ollie.
Does this mean we can expect Miss Smoak to get into the vigilante business? What about her obvious crush on Ollie? And which returning character is going to interact with Felicity very soon?
We jumped on the phone with Emily Bett Rickards yesterday to grill her on tonight's "The Odyssey."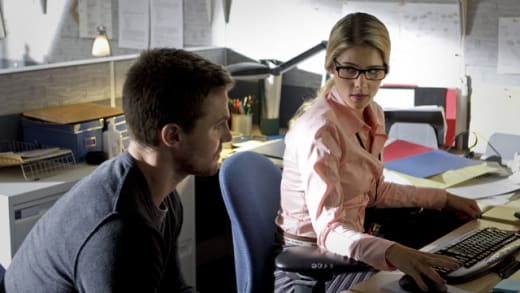 TV Fanatic: Congratulations on the second season renewal!
Emily Bett Rickards: Thank you so much! We're all really, really stoked! It's a big compliment to our whole team.
TVF: It was so much fun to see more of Felicity in the action this week. How was that for you?
EBR: For me, I was really, really excited from the first time I got to read it at the table read. For Felicity, I think she's extremely nervous and a little bit apprehensive. At the end of the episode, we see her conditioning on how this is going to go further and, yeah, she's nervous but everything makes sense to her about Oliver being who he is.
TVF: Everything she experiences in the episode doesn't really throw her as much as I would've expected. Even Diggle comments on it. Is that just Felicity?
EBR: I think that's part of it but when I was reading the episode and working on the episode, everything just clarifies. She has a very mathematical and systematic mind and everything just fell into place when she was revealed his big secret. It just clarified a lot!
TVF: We got more of Felicity this week but, of course, is there even more coming either in the show universe or with the comic book background?
EBR: When Felicity comes into the comic world - please correct me if I'm wrong but I've done quite a bit of research on her - she's older than I am in the comics and she's related to Firestorm and has super abilities, which we're not doing in the show. So I'm not sure how much it's going to cross over from the comic books. We definitely get to see her play more in Starling City later in season one and into season two, as well.
TVF: And she probably has a little crush on Oliver. Is that safe to say?
EBR: I think she knows that Oliver is a really good looking human being. [Laughs] Yeah, she has a special relationship with Oliver once that reveal happens. She wants to call him on all his lies and help him become a better Oliver, not just a better vigilante or better Arrow.
TVF: In  my viewing of the episode, when he's in her car, he's dressed but when she pulls him into the room with Diggle, his shirt is off. What happened in between those two scenes?!
EBR: What happened is she tried to carry him down, he was bleeding and there was blood everywhere. He was shot so they try to fix him up, couldn't do it, tried to bring him downstairs, he's really big, I think in the turmoil of getting him from nine flights of stairs [laughs]…and they tried to get him on the table as quickly as possible.
TVF: And in the process his shirt fell off…
EBR: His shirt fell off! Those abs were just crying to get out! [Laughs]
TVF: At this point, what is Felicity's greatest asset? Is it her mind or something more than that?
EBR: I think she also brings a different dynamic to the group and I think they need it. They're always stuck in their man-ways. They need someone with an objective point of view who hasn't had the experience in fighting and potentially killing so she's not as numb to that. It affects her, too, and I think that's really dynamic to the group. I think that's a big asset.
TVF: Will we see her interact with other people in the Arrow cast? So far it's mostly been Ollie and, in this next episode, Diggle - but any others coming up?
EBR: We have The Huntress coming back and we have some trouble that she gets into with her. We had a great time shooting that with Jess [Jessica de Gouw]. It was a great day on set.
TVF: Do things get physical as far as Felicity having to defend herself or is it more of a verbal thrashing?
EBR: [pause] The Huntress forces her to get some sort of information.
TVF: How are you dealing with the fandom of Arrow as well as the comic book fans? They're so attentive to the show.
EBR: I'm definitely still getting used to it. I think it's a really good compliment for our team and the work everyone is really happy to be working on the show. Just the feedback we're getting from the fans, it's just so supportive and makes everyone feel that we're doing the right thing and heading in the right direction. It's really sweet and we all are very, very grateful!


Jim Halterman is the West Coast Editor of TV Fanatic and the owner of JimHalterman.com. Follow him on Twitter.