Something dawned on me while watching "There's Nothing Worse Than a Pantsuit." I couldn't think of a time when we've seen Melanie interested in a guy. As she was telling Ginny how happy she was that she might not have to go to prom and Cozette showed up with her derby photos, I wondered: is Melanie gay?
Then Des popped up at the lunch table. Is he a viable boyfriend candidate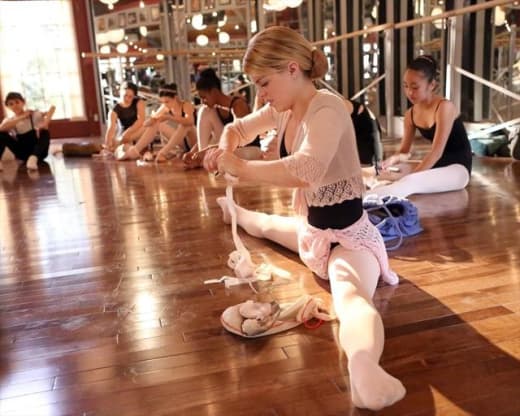 I liked that Roman pushed the envelope with Sasha and introduced some male blood into the bunhead bond. With Boo and Carl and Sasha and Roman, they're growing into a nice little community. I found it funny that Ginny, who had a boyfriend for eight years, was having the most difficult time with the changes in their group. She was ahead of the curve for so long that she felt lost when everyone else caught up.
It pushed her to audition for a role in the school play, which was something Ginny had never done before. It was fun to see a that different side of Bailey Buntain's talent, and Sutton Foster's to match.
Why did Michelle jump into Ginny's practice? Because Talia popped in for a visit and, even though she and Michelle are friends, it's a competitive relationship. Arriving with news of an engagement to her elderly partner, Michelle couldn't help but poke fun at her. It was embarrassing listening to Talia go through the many phases of accepting the proposal - seeing a hot guy, no; credit card declined, yes; flat tire fixed by another hot guy, no.
That's who Michelle was before Hubbell found her and plucked her out of Vegas. A shallow, thoughtless showgirl waiting for a big break that never came. Hubbell was her break, although Michelle still has a difficult time seeing the wonderful things he brought into her life.
While she was fighting alongside Milly with the crazy town board to get the permits for the amphitheater, Michelle felt good about doing something for Paradise. She and Talia were celebrating her accomplishment when Talia got a phone call out of the blue from a valet she banged ten years prior called her to ask her to tour with the road show of Rock of Ages. It thrust Michelle into a crushing bout of self-doubt and she was left completely unsure of herself again.
I'm not so sure Talia is the best friend for Michelle if she always makes her call into question her own life choices. She's jealous of her and somewhat disgusted at the same time. It's sad when Michelle has so many people who love and believe in her now that she's found Paradise for her to continually find herself in these situations.
Fanny isn't around enough for Michelle to lean on her for consistent support and the bunheads are too young to understand what she's going through. Talia is too far away and their lives have drifted far enough apart where they are just shy of fully getting each other. It's been long enough since Michelle has been in Paradise and since Hubbell has died that they can introduce a love interest.
Michelle doesn't need someone serious, bu she needs someone who can take her seriously. While Godot takes her seriously, she doesn't take him the same. She needs a peer. The amphitheater won't be enough to fulfill her just like teaching isn't enough. There's a calling in he soul that needs answered.
It was the first time watching, even more so than "A Nutcracker in Paradise" when Michelle was challenged enough to leave Paradise, that I felt low at the end the Bunheads. There is such a longing in Michelle that I want to crawl in and try to give her something to hold on to.
Carissa Pavlica is the managing editor and a staff writer and critic for TV Fanatic. She's a member of the Critic's Choice Association, enjoys mentoring writers, conversing with cats, and passionately discussing the nuances of television and film with anyone who will listen. Follow her on Twitter and email her here at TV Fanatic.