Sam Witwer Speaks on "Defining" Being Human Season, Aidan's Journey and Star Wars

Sean McKenna at . Comments
Sam Witwer's character Aidan may have recently gained the nickname "Twilight," but he's got a lot more on his plate to deal with than simple romance on Being Human.
I recently spoke with the actor about what makes working on the show so special, what's in store for the brooding vampire and if there's any chance of him taking on a potential Star Wars movie role.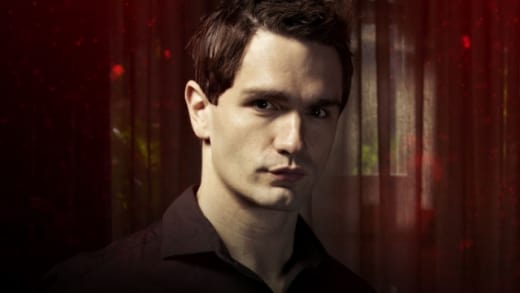 Witwer's resume is an impressive one, including characters such as Doomsday on Smallville and Crashdown on Battlestar Galactica. However, Being Human marks the first time he's played the same individual for multiple seasons.
"I've always been kind of a nomadic actor... This is the first time that I've actually hung around and wanted to hang around," he said, adding:
"The fact is, on Being Human, Sammy [Huntington], Meaghan [Rath] and Kristen [Hager] are three of my closest friends. I love being around them. I mean, we even hang out on weekends when we're not shooting, if that tells you anything. I not only admire the hell out of their talent, but I like them as people."
But it's not only his on-screen partners that appeal to the star:
"The writers are extraordinarily collaborative. We get to put a lot of ideas in there and, provided they're good ideas, we often times will see them in scripts. The cool thing is that the writers will take an idea that we've come up with and make it way better."
On top of the camaraderie, there was a depth to playing Aidan that really attracted him the unusual drama.
"Being Human was something I really didn't know how to do. You read the scripts and yeah, it's clear that Aidan is the dramatic anchor of the show, right? I mean he's this guy who's having the most dramatic and heavy plot lines generally. But as you look at it, there's a lot of humor demanded of the characters, including him. It's something I didn't know how to do coming out of the show."
Witwer continued: "Could I be funny if you wanted me to be a complete goofball? Yeah, sure. I have a lot of experience with that with my friends. Did I know how to be funny while playing completely straight and not leaning into the joke, and doing it in a way that was subtle and more realistic? That is something I have no experience in."
Ultimately, it's that "constant workout for an actor" that keeps him interested in Aidan's journey.
Of course, that meant strapping himself into a Hannibal-like mask on "It's a Shame About Ray," which the actor chuckled was "not comfortable" and which also included a full beard.
"On a personal level, I was so happy to shave that thing. But for the show, once we saw it, I think that me and some other people wished we kept it around a bit longer. It was interesting and different."
Aside from the facial scruff, the real challenges for Aidan this season are going to be trying to fit back into "civilian society. Can he do that? And how does he undo all of his training because he was trained to be a killer? How do you just turn that off?"
Witwer knows that relationships will likely be affected. Even perhaps romantically with Sally because "they're discovering this year that they have more in common than perhaps they've ever had."
At the same time breaking free from his past like Henry won't be an easy one.
"[That was] a destructive relationship in that it was created at a time when Aidan was a completely different person. Whereas with Josh, that relationship is based on the guy Aidan wants to be, rather than who he was for the past two hundred and however many years."
Interestingly enough, Henry makes a comment before he dies in "The Teens They Are a Changin" that everyone who loves Aidan meets their untimely end, and Witwer completely agrees.
"Yes, absolutely it is [true]. His personal relationships all seem to end in tragedy, and it's something that we definitely meditate on this year in terms of Aidan's character moments.
"If someone dates Aidan, well his love relationships don't have a long life expectancy. It's really more to the point that there's this plague and all these people that Aidan had contact with are all gone now. And he did very much care for some of them."
So, what will really make Being Human Season 3 stand out from the first two?
"The fact that it has the highest stakes, at the same time, it's the warmest and the funniest. Like everything that our show does, except better than we've ever done it. The stakes are higher because you have the consequences of the past two seasons weighing down on them, but the roommates are together throughout the entire season, so there is a great deal of warmth and humor and character in this. For me it's kind of a defining season."
As if playing the conflicted vampire roommate wasn't enough, Witwer also voices the fan favorite, Darth Maul, on the animated series, The Clone Wars.
While his initial foray into the Star Wars universe was portraying the protagonist on the video game the "Force Unleashed," taking the next step into the popular show was both an honor and "really, really fun."
Witwer had previously played a character called "the son" during season three, and while director Dave Filoni had mentioned another role down the line, the actor had no idea what it would be.
Yet, getting the call, he jumped at the chance to play Darth Maul despite not being "entirely sure it would go off well."
"I think the thing that was so attractive about it was A) We had a chance to make Darth Maul a real character instead of a one note kind of hit man, and B) this is a character that throughout this story, every episode that you saw would be different. He would be evolving. There would be new elements added to this character."
Might Witwer take the leap to the big screen for a live action Star Wars?
"Dude, of course I would. I'm not the kind of actor who marches around and starts putting on Twitter, 'Hey, I'm campaigning to be in the next Star Wars.' They'll call me up if they have an idea."
But it was obvious that Witwer has a huge passion for the space epic: "Look, would I love to do it? Absolutely. I also think that with all the Star Wars work that I've done that I'm ready for it. I feel like I've done my homework and not just by being a fan since I was a kid, but when I got Force Unleashed, you're kind of looking at things like we're now creating a new Star Wars protagonist and this is supposed to take place closer to the original trilogy. I have to make sure my performance seems more like Mark Hamill's, Carrie Fisher's, and Harrison Ford's. It's got to have that style to it."
Watch Sam Witwer as Aidan for some blood sucking fun on an all new episode of Being Human tonight at 9/8c on Syfy.
Sean McKenna was a TV Fanatic Staff Writer. He retired in May of 2017. Follow him on Twitter.