The Dunphy-Prichitt clan was back tonight with a couple of life lessons in "The Wow Factor." Between house flipping, hardball and handling new babies, Luke had the best advice of all: You're Never Off The Court!!
So what can be derived from Luke Dunphy's catchphrase? After all, as Mitchell pointed out, he definitely spends more time on the court than in the classroom.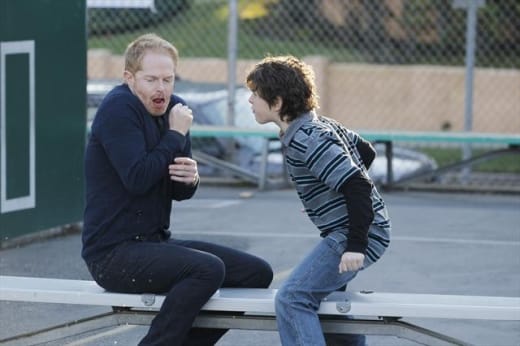 I think what Luke meant is that you can never take your eye off the ball when you want to win. Sometimes it's just a parenting argument like between Jay and Gloria and sometimes it's about Cam and Claire trying to flip a house. 
Jay and Gloria thought that Manny needed some more attention from his mama so Jay planned to take baby Joe for the day. Jay wasn't down with the hippie waving around a frog puppet in baby class and Joe was asleep anyway, so he decided to drop in on the latest James Bond flick. Honestly, I've never understood people who take newborns into movies theaters. Isn't that really loud for them? I could see that outcome a mile away.
Claire's friend offered to take the baby while Jay sat with her sons in the movie. Obviously if I were Gloria I'd be pissed. Do I think Joe was in any danger? No. But I wouldn't have trusted my newborn with a stranger. Even if she wasn't a stranger to Jay, she was to Gloria. Gloria would've won that fight, too, but Manny outsmarted them both! Manny really is the wise one.
When it came to Claire and Cam, there's really no outsmarting each other. They work on the same competitive level and know each other's tricks. Trojan horses, number games and hilarious guest star Wendi McLendon-Covey couldn't stand a chance to the dancing fountains! Or should I say, the disaster that was the dancing fountains. Those poor goldfish...
Well, I'm really glad they went back to the house flipping storyline because Claire and Cam paired up on a project provides a lot of comedic material.
Just don't ask Haley or Alex to help on any of the construction stuff because those two don't have a clue! I love that Phil was trying to be all "man of the house" when really you know that Claire runs that ship. Phil reaching out to his father was adorable and pretty funny.
Are we gonna do that thing again where you try on different outfits like in Pretty Woman? | permalink
Of all the lessons learned on the latest Modern Family the most obvious one was never to take on a little kid in a competitive game. It's one thing to try and teach a kid to stop being a bully, but Mitchell got a tad carried away. I enjoyed his little winning dance but the other parents definitely didn't. I think it's a good idea for Cam to do drop off for a little.
What did you think of the spring return of Modern Family?