NCIS: Los Angeles Review: Sunshine and Gun Powder

Carla Day at .
Sam's wife, Michelle aka "Quinn," was back and forced undercover again in "Wanted."
It was inevitable that Isaak Sidorov would eventually return and insist that Quinn complete the assassination of Anatoli Kirkin. That day arrived and provided NCIS with an opportunity to find out where Sidorov was keeping the three stolen nukes.
Of course, Sam wasn't thrilled to see Michelle back at work and putting herself at risk. I have mixed feelings about this. I understand that Sam wants to protect his wife, but at the same time he feels it's okay for him to put his life on the line every day. It's definitely a double standard, but one that at least makes sense. There is a difference between one parent risking their life and both parents doing it. And, they decided that Michelle would be the one to give up the job.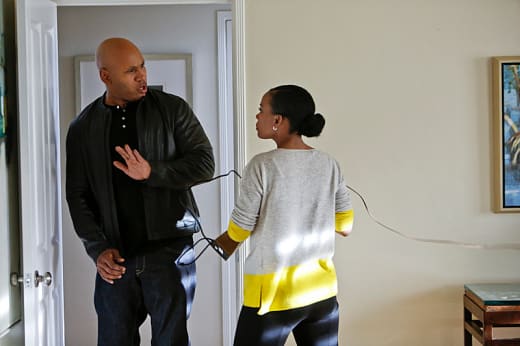 Love will make people do crazy things and for Sam that meant breaking out of jail. He had to be there to protect his wife. It wasn't that she couldn't take care of herself, but he felt a duty to be there there for her. And, in the end, that was a good thing.
After months of waiting for the Sidorov/Quinn story to be revisited, it was a disappointment. While faking Kirkin's death worked, it was unoriginal. Though, the use of social media and a viral video of the assassination was a nice modern touch. The story would have been better if it focused more on the search for the nukes, than on the assassination attempt. Though, as a transition story for an overall Sidorov arc, it wasn't too bad.
The highlight of the hour was on the personal side and interactions between the agents. The Kensi-Deeks partnership has been downplayed over the last few episodes, so it was a pleasant surprise to see it spotlighted again. From the magazine partner quiz, distracting Agent Snyder, Agent Sobatino's flirting, wet dog scenario, to the touching moment after Snyder's death, Kensi and Deeks actually considered their feelings for each other outside of work for the first time.
A romance between them has been tossed around before, but never in an even semi-serious aspect until now. Will the loss of Agent Snyder provide the opening for them to actually talk to each other about their feelings instead of around them? From the very beginning, I've been against Kensi and Deeks becoming a romantic couple. They are NCIS agents and partners; that's just a line that shouldn't be crossed.
If they did begin dating, they should be forced to get new partners. They could try to hide it like Rick and Kate on Castle, but as NCIS agents that would be dangerous. They care about each other as partners should, just like Sam and Callen, but anything more would be detrimental to the show. Sam's love for Michelle put him in a bad situation. He acted as a husband and not as a agent, which provided an example of why Kensi and Deeks can't hook up and remain partners.
Michelle's life is still at risk now that Sidorov is free and unaccounted for. Will Sam's family be forced into protective custody? While the fake assassination worked in the short term, Sidorov will certainly find out that Kirkin is still alive. NCIS needs to find him and the nukes. As Hetty said, "This is far from over."
Odds and Ends
Nice reappearance of Agent Sobatino. He previously seen as an actuary on "The Watchers," when Granger shut down the investigation. Now, we know why. He was an undercover agent.
Kensi and Deeks conversations to distract Agent Synder were a highlight of the episode. I could watch their hilarious banter on constant repeat.
Sobatino's comments to Kensi were awkward! But, the reasons he gave about why he couldn't be Kensi's partner were spot on regarding the potential relationship between her and Deeks.
Are there aliens in Area 51?
Kensi: Eww. You're like a wet dog. | permalink
And, then Deeks shaking his wet hair out on her ... priceless!
Kirkov winked at Deeks! Ha!
The heart-to-heart between Kensi and Deeks about not dying was touching. But, nothing better than his answering the question about what she smells like:
Deeks: You smell like Sunshine and gun powder. Two of my favorite things. | permalink
Where are the nukes? I want to know where the dangerous nukes are! 
Were you satisfied with the non-conclusion to the Sidorov case? Should Sam have followed Hetty and stayed in jail? Or did he do the right thing by breaking out? Are you rooting for a Kensi-Deeks hook-up? Would it be realistic for them to date and continue to be partners?
Carla Day is a staff writer for TV Fanatic. Follow her on Twitter and on Google+.