That damned cure.
It's been a driving plot point ever since our beloved Elena became a vampire and, honestly, the whole thing started boring me episodes ago... until tonight's "American Gothic" episode, written by Evan Bleiweiss and Jose Molina.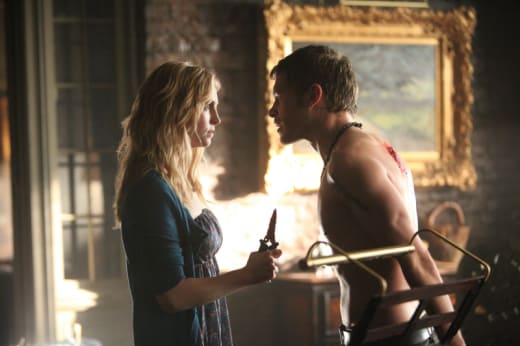 In the past on The Vampire Diaries, a road trip away from Mystic Falls often felt like a stand-alone episode in that there may have been a goal that fed into the overall plot but, in the end, it still felt a lot like filler to prolong getting to the good stuff.
But with Elena and Rebekah working together at the top of the hour to find the holder of the cure – bad ol' Katherine – the installment was filled with action, suspense and some definite movement in the plot; it also did what The Vampire Diaries Season 4 has failed to do for me a lot over the past few weeks: it left me wanting more.
Executive Producer Julie Plec has done one thing right throughout the series – she brings Katherine in only when necessary and then she lets her fly. But this time there was more than just watching Katherine outwit and outbitch everyone in her path. In this episode, we got a little bit under the surface and actually felt a little sympathy for her. Shocker, right?
With the reveal that Katherine and Elijah have been dating, it fed into the mythology of their story and the fact that love is something most of these characters have never truly known... yet desperately want to. And when Katherine told Damon and Rebekah that they didn't know her, call me a fool but I believed her, which only made Katherine telling Elijah later in the episode that she wants the cure because she wants her freedom all the more touching.
That was probably the biggest surprise in the episode.
And that's saying something because "American Gothic" was an episode filled with true nail-biting moments, which I've been missing a lot of this season. When Rebekah took what we thought was the cure, I honestly wasn't sure what was going to happen - and was dying to know. Being surprised by Silas taking on Caroline's appearance was one I didn't see coming. And seeing Rebekah in the same frame as Elijah late in the episode only made me more excited for The Originals.
Finally, making it all very clear why each individual wants the cure (and, in Elena's case, why she doesn't want it), only amps things up brilliantly for the rest of the season.
However, the episode wasn't a slam dunk and here are a few things that had me groaning at my TV:
Either give us a payoff to the Klaus-Caroline sexual tension or let's move on. While it has always been clear that Klaus has feelings for the blonde vamp, we've seen Caroline moved a bit by his words and more valiant actions. Sure, the guy is more bad than good. But isn't being a teenager (especially an eternal one) all about making mistakes, including sleeping with the wrong guy? Pay this off or let's move on.
The humanity switch. The moment it was brought up, it felt more like a storyline contrivance more than a piece of brilliance. I couldn't help but think how the same idea has worked in a good way over at Once Upon A Time but this is The Vampire Diaries and for all its fantastical elements, it's a show that's always had at least one foot grounded in some kind of reality. The humanity switch just seems too easy for the show.
There's absolutely no dramatic tension anymore when anyone gets their neck snapped. Unless we're going to get some really great, different consequences from the act, can we please stop overusing it?
Overall, thumbs up on "American Gothic" and I'm geared up for the rest of the season. Bring it! What did YOU think of this episode? Are you excited for the coming episodes, which don't return until April 18?
Jim Halterman is the West Coast Editor of TV Fanatic and the owner of JimHalterman.com. Follow him on Twitter.