Expletive!!!
"Always a Bridesmaid, Never Alive" was one hardcore episode of Being Human. Pretty much everything we've predicted throughout Being Human Season 3 is coming true as we head into next week's finale, and I don't know if it's a good thing or a bad thing. We haven't yet been renewed for a season 4, and that frightens me more than anything that can happen on the show itself.
Nora and Aidan's rift was clearly 100% mended, as Aidan was not only officiating at the wedding of she and Josh, but was also the minister, the caterer and the decorator. He did such a lovely job on the decorations it brought tears to my eyes. It turned out they wouldn't be the first tears to freely flow out of the unruly sockets, either.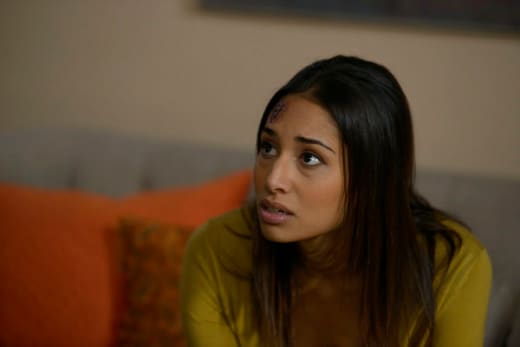 As unhappy as it made Josh that Emily, the only tie to his past who could have been at his wedding would not be there, he was ready to wed Nora and she him. Even with the gruesome thought of losing their best friend again, they were prepared to go through with their day and make it as special as possible so that Sally could be a part of it. It was kind of their last hurrah as one big, happy family.
Their family seems to be growing as well. Nora talked Kat into hanging onto Aidan and giving him a chance when she jumped to conclusions about him jumping out of her bed a few nights earlier. Yes, the same Nora who would have just as easily jumped to conclusions about Aidan herself one moon ago was now his advocate. Aidan? He's calling Kat his girlfriend. Something tells me she'll be alright when she learns about the supernatural side of things, and I have no doubt she will. Eventually.
Sally started falling apart at a rather alarming rate, and pressed on with her death, leaving Josh and Nora to reschedule their wedding plans. But they made do. For the first time in history one of those dumb-ass dress up sessions actually meant something. You know the ones, when the girl tries on a dozen outfits trying to find just the right one? I confessed in my review of "If I Only Had a Raw Brain" that I hoped she picked a great outfit to die in this time around, and Nora was on the same wavelength. She had spent weeks shopping to find as many choices for Sally as she could. Rock on Nora!
Instead of dying a horrible death, being murdered by someone she loved, Sally was able to talk about what it would be like to die with Aidan, and hold Josh's hand as she waited to go. She died with her best friends at her side. Alright, I cried again. Shut up.
Always having each others backs, they decided the original trio would enter the door together, Sally chanting an incantation while Aidan used her physical heart as the ultimate weapon against Donna. Of course nothing turned out as planned. Josh was hilarious as Aidan plunged his fist into Sally's dead body to retrieve her heart just moments after she died.
Josh: Dude! We're nurses, we're not too well versed on like eye of newt! Can't we just bring a weapon, like a normal weapon?
Aidan: Look, the heart of the bewitched, Sally's heart, is our weapon.
Sally: Dorothy only needed a bucket of water! | permalink
They needed a lot more than a bucket of water and Sally's heart, and honestly, I have no idea how Sally ended up back on her bed as a ghost, but the three of them went through hell. I think Josh got the worst of it in his encounter with Ray. He taunted him with memories of how horrible it was to hate his maker and reminded Ray what it must have been like for his son, promising to put him out of his misery when he was through with Ray. That's so unlike Josh, threatening a child, but he did what he had to do to get out. As Ray changed to a werewolf and attacked, Josh chopped his head off. I think we've finally seen the last of Ray.
After everything went down, and Sally was back (dressed in her snazzy new outfit she'll now spend eternity in), everybody was tired and decided to put the wedding off. Josh couldn't see Sally until he changed at the next full moon, and waiting a little longer wouldn't change their minds. But, Emily showed up and demanded a wedding and she got one. Josh wrote beautiful vows, Nora had none but an I love you and tears and they were off on their honeymoon.
So. Why didn't Kat wonder where Sally was? Or Emily? They didn't notice she just didn't show up? That was an odd point for me. It just didn't quite work as planned. It had to be rushed a bit to get where they were going, but it made no sense to me. Where were they going exactly?
Other Thoughts:

Josh and Nora are at a beautiful cabin for their honeymoon. Nora goes out to collect wood. Liam is there. He's missing an eye and he's pissed.
Emily is leaving the house, blows out the candles blaming monsters for their poor fire safety habits and they light up brighter than before as a frightened Sally looks on. Someone came back with her. Donna?
Aidan walks by the basement door and closes it, but we get a look downstairs and poor, poor Kenny has made the change into one of the beasts that Professor Jeff became.
That's where we're heading for the finale next week. It's not going to be pretty, is it? I've already mentioned no news of a season 4 pickup. What did you think of tonight's frakking awesome action packed and emotionally stunning episode?
Carissa Pavlica is the managing editor and a staff writer and critic for TV Fanatic. She's a member of the Critic's Choice Association, enjoys mentoring writers, conversing with cats, and passionately discussing the nuances of television and film with anyone who will listen. Follow her on Twitter and email her here at TV Fanatic.